APC Primaries Has Revealed Oshiomhole's Incompetence – Akeredolu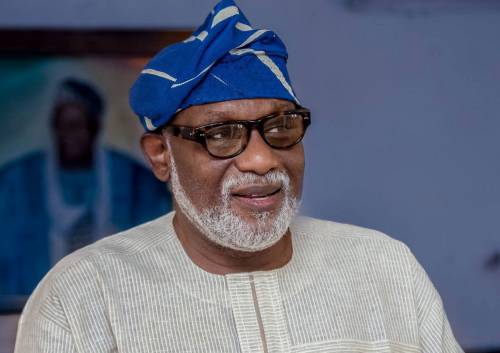 Ondo state governor, Rotimi Akeredolu has said the primaries conducted by the All Progressives Congress (APC) is a charade which exposed the national chairman Adams Oshiomhole's incompetence.
This, he said while reacting to allegations that three governors, led by Akeredolu, were bent on betraying the party.
Akeredolu said recent event has justified his position against Oshiomhole and called on all aggrieved to demand justice and the removal of Oshiomhole as party chairman.
He however declared his commitment to President Muhammadu Buhari's re-election.
During a pro-Oshiomhole protest at the APC secretariat on Tuesday as earlier reported by Naija News, Akeredolu was listed as the leader of the conservatives bent on the removal of Oshiomole.
But Akeredolu, who described organizers of the protest as opportunists, denied the allegation, saying he found it laughable and distracting.
"The governor had expressed preference for someone else during the contest for the office of the Chairman of the party," he said in a statement which Doyin Odebowale, his senior special adviser on special duties and strategy, issued on his behalf.
"He did not hide his opposition to Mr Oshiomole's aspiration for the simple reason that the leadership of a party, especially the one just emerging from a merger, should distance itself from egregious and inherently destructive narcissism.
"Recent events seem to justify this position as prescient. Only sycophants will fail to see the obvious. Mr President would not have expressed worries over the crises in the Party if everything had gone on smoothly.
"The handlers of the mob strive in vain to set the President against certain government functionaries considered antagonistic to their pernicious scheme for dominance.
"Their devious plot to outsmart those perceived as opposing their expansionist tendency compelled them to take desperate measures. Anyone endowed with an attitude of sobriety should have seen the need for calm.
"Rather than retrace their steps and display genuine contrition, their desperation pushes them to embrace measures capable of not only hurting the Party, but, regrettably, the President, whom they pretend to love so much.
"Those who collected varying and humongous amounts as fees from aspirants during the last grandiose charade called primaries and submitted names dictated to them by a cabal, notorious for capturing political power for unbridled pillage, should be bold to explain their real motives to the people. They should be honest enough to deal with the issues.
Akeredolu recalled his "noble interventions" in restoring Oshiomhole's stolen mandate.
Source: Naija News