Tinubu's Ex Deputy,Bucknor-Akerele Speaks On Ambode's Defeat To Sanwo-Olu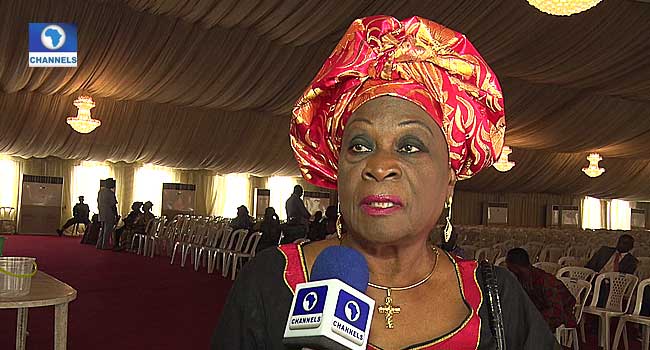 APC Is More Like A Mafia Organisation – Bucknor-Akerele
A former Deputy Governor of Lagos State,
Kofoworola Bucknor-Akerele
, has described the outcome of the governorship primary of the
All Progressives Congress (APC)
in Lagos as 'absolutely disgraceful' and shows that the party is more like a mafia organisation.
Mrs Akerele  who stated this yesterday at the venue of the governorship primary of the Peoples Democratic Party (PDP) said the fact that an incumbent governor could not emerge as the party's candidate in the primary because of the idea that "one man must be served", showed that the APC was no longer a political party.
There is no better explanation.
I bet you in no time the two ruling mafias – PMB and Tinubu will soon turn their guns on each other

— John Alhassan (@john_alhassan) October 4, 2018
She said, "I think it is absolutely disgraceful, what has happened in the APC because it would seem that the whole idea in the APC is that everyone should be serving one man and if you're not ready to serve that one man, then you are out, so to speak.""It's not a political party; it's more like a mafia organisation".
Bucknor-Akerele, however, did not mention any names.
"It's not a political party; it's more like a mafia organisation".

Bucknor-Akerele (former Lagos State Deputy Gov)

Considering what down in Lagos and how Tinubu roughshod Ambode. She's right.https://t.co/n24PjNTXPq

— ThankGod Ukachukwu (@kcnaija) October 4, 2018
When asked how her relationship was with former Lagos State governor and national leader of the APC, Bola Tinubu, considering that she worked closely with him and was deputy governor under him from 1999 to 2002, she responded by saying,
"Well, I was never 'very close' to him"."Yes, we were together in the Senate, we fought for the restoration of June 12 and I was his deputy but certainly if the way he treated me when I was his deputy is the way you treat someone who is very close to you, then I'm sorry, I think it leaves much to be desired."
Its funny what happens in lagos,wonder what should happened to others non performing governor's in rest of the States but still getting thier ways into second term. Its really terrible.

— Abdul Salam Abdul Rasheed (@AbdulSa30613233) October 5, 2018
Following the conclusion of the APC governorship primaries, in which Babajide Sanwo-Olu emerged as the flag bearer, the PDP on Thursday began the process of determining who would become its candidate in 2019.
Those contesting the PDP ticket in Lagos are Mr Adedeji Doherty and Mr Jimi Agbaje.
Akerele, who has since defected to the PDP, said she was confident that the party would emerge victorious at the election.
In the Mafia world to preserve the FAMILY interest, D Don can even order for the execution of the heir 2d throne That's how bad it is. Dy take no prisoner, D Family is supreme. 9ja politics can be likened to D Mafia. D Don maybe wrong but no one questions him

— Solomon John (@solobanzi) October 4, 2018
She, however, explained that the success or otherwise of the party depended more on the ability of the electoral umpire (INEC) to stay neutral, adding that it had very little to do with the candidate in question. She, therefore, called for an overhaul of the commission, stating that it is the only way to ensure a free and fair process.
You were a foundation member mama. It isn't proper for you to say this at this time. Is PDP different? Your relevance in today's politics is gone.

— Gbenga Abimbola (@Gbenga22748799) October 4, 2018
"It's not so much the candidate; it's the machinery on the ground to be able to defeat the APC. Not only that, we have to ensure that INEC is fair."INEC is no longer independent. INEC is (I wouldn't say in the pocket exactly) but they are certainly leaning towards the APC in everything we see.
"We could see that quite clearly from what happened in the Ekiti and Osun elections and I am hoping that there would be something done about INEC and maybe some of these electoral officers should be removed," she said.
Source: Naija News