Nigerians Blame Buhari, Federal Government Over Leah Sharibu's Condition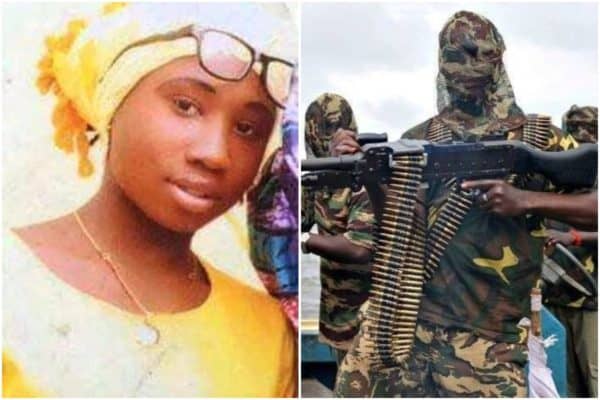 Nigerians Call On Federal Government To Intervene Speedily Over Leah Sharibu's Captivity.
Again, Nigerians have flooded twitter with the cries and calls on the federal government to intervene in the case of Leah Sharibu, the christian girl that is still being held captive by Boko Haram.
This is as Naija News reported yesterday how Boko Haram terrorists belonging to the Islamic State West Africa Province (ISWAP), killed an humanitarian worker Saifura Ahmed.
The Cable published a video  where the deceased was wearing a white hijab. She was shot from behind.
The insurgents claimed that they had contacted government over the captives but did not get any response.
They said "We contacted the government through writing and also sent audio messages but the government have ignored us. So, here is a message of blood," said a spokesman of the group who did not give his name.
Adding that "The other nurse and midwife will be executed in similar manner in one month, including Leah Sharibu."
In series of Tweets, Nigerians lamented what they described as delay by the present administration in getting Leah Sharibu released, while also suggesting that the federal government should use the method it used in releasing the other girls to rescue Leah as well.
In the tweets below, Nigerians blame Federal government over Leah Sharibu's continued captivity.
Saifura Ahmed, one of the 3 health workers abducted in Rann has been killed by Boko Haram, they threaten to kill Leah Sharibu next.

The insurgents claimed that they had contacted Buhari's government over the captives but did not get any response.

What an unfortunate government

— Oluyemi Fasipe 🇳🇬 (@YemieFASH) September 18, 2018
What's the present government doing to ensure Leah Sharibu is released? The little girl has gone through enough trauma, her family has gone through enough trauma. It seems all of a sudden The Presidency ain't taking insurgence serious anymore.

— WunderKid (@Wunderkid__) September 18, 2018
So according to Boko Haram, they contacted the govt over the Humanitarian Workers in their captivity as well as Leah Sharibu But got no response from your govt.

One worker has been killed.

Now they've given one month after which they'll kill the remaining workers & Leah pic.twitter.com/Og3UP6R9hH

— Rita C. Onwurah (@RitaOnwurah) September 17, 2018
Saifura Ahmed Killed! 😔 😢 😡

Few days ago, I reminded this Government about those health workers held captive by BH from Rann IDP camp.

Now it is clear that Govt abandoned them, no negotiation is ongoing. All of them are on their own, including Leah Sharibu.

I am gutted!

— Integrity Mr (@Intergrity56) September 17, 2018
"We don't negotiate with terrorists"

Bullshit. Whatever that was done to bring all the other girls back should be done for Leah Sharibu.

— Maryam⚛️ (@elharsh) September 18, 2018
Nigerians Pray For Leah
FG: Boko haram has bn defeated.
News: Boko Haram killed soldiers.
FG: it's a lie, Boko haram are on the run.
News: Boko harm kills health worker Saifura Ahmed, threatens Leah Sharibu, after trying to talk to FG with no response.
I don't know why the FG is lying.
God keep Leah.

— AJALA (@UNCLE_AJALA) September 18, 2018
May Leah Sharibu find her way back home. May God direct the people in the position to facilitate her release to do so by His special grace. Ameen.

— Yemi (@Babygiwa) September 12, 2018
Leah Sharibu, May God be with you.

I just recalled that I had a dream about this terrorism and how scared I felt.

I can only imagine what she's going through now. God please help.

Sighs!

— Bohemian chick (@Chicasa) September 17, 2018