Nigerians Eulogise As Theresa May, Angela Merkrel Visit Nigeria In One Week!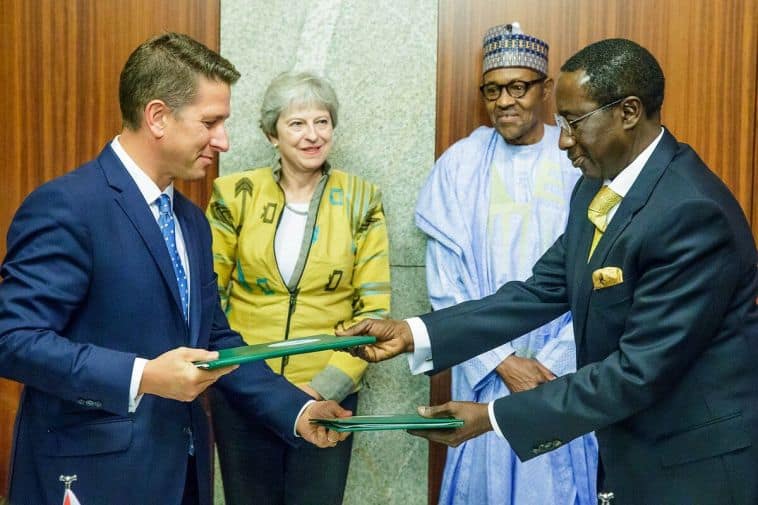 Comments On Theresa May And Angel Merkrel's Visits To Nigeria.
The Social media has gone wild with the questions, what Attracts British prime Minister Theresa May To Nigeria, what brings German Chancellor  Angela Merkrel to Aso Rock, Abuja, Nigeria.
Merkel had paid a day's working visit to Ghana, yesterday for the purpose of deepening further the already strong relations that exist between the two countries, as well as explore other areas of co-operation.
Still in the mess of dramatic gale of defections, unknown source of killings, concerns on the rule of law and national interest, individuals have taken to social media to express their opinion of  the significance of the foreigners' visit to Nigeria.
While some have thought that outsiders appreciate Nigeria than the citizens, some have also chided president Muhammadu Buhari for not making best use of their visits.
Still some think that  the President  as well as Nigeria deserves some accolades for receiving such attention from across the globe in one week.
See Tweets below:
While we are busy talking down Nigeria, outsiders are looking up to us as a nation of potentials.
It's German Angela Merkel's turn today… pic.twitter.com/0xtq4hS0mN

— Niyi Murele (@NMurele) August 31, 2018
Guys, Buhari is winning this thing 😂. He's welcomed Theresa May and Angela Merkel all under a week. Gathering that international ally quota.

— Sir T. (@TheIroko) August 31, 2018
In the space of few days, Nigeria has received Angela Merkel and Theresa May. The two top European leaders all discussed trade agreements with Nigeria knowing full well that as far as Africa is concerned, Nigeria is a heavy weight.

— Mr. El-Bonga (@el_bonga) August 31, 2018
His Integrity has taken us to another level, Theresa May paid a courtesy visit yesterday, Angela Merkel today.

It has never been like these in our country, Nigeria has gone international.

Let the good work continue @MBuhari & @ProfOsinbajo 2019, no shaking. pic.twitter.com/ee2vf9iFkK

— Tunmise Reformer (@MrRefor) August 31, 2018
If I were President of Nigeria today in a press conference with the German Chancellor, Angela Merkel, I would've taken every single advantage of German innovation & entrepreneurship to develop our youth and build a greater skill capacity for our people. Alas, we missed it.

— Adamu Garba II (@adamugarba) August 31, 2018