2019: There Is Blood Everywhere In Nigeria, Vote APC Government Out – Lamido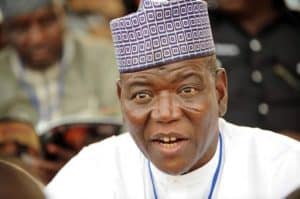 Lamido Believes That Voting For APC Will Damage Nigeria More
Alhaji Sule Lamido, former Governor of Jigawa State, and a presidential aspirant on the platform of the Peoples Democratic Party, stated that voting for the All Progressives Congress in the 2019 general elections would cause more harm for the country.
Lamido, while speaking when he paid Samuel Ortom, the Governor of Benue State, a visit on Thursday, in Makurdi, said that there was blood everywhere in Nigeria under the administration of APC.
He maintained that already, the APC had introduced division, leading to venomous agenda, aimed at defrauding the country.
"I share in the anxiety of those who advocate that Nigeria should be restructured. APC is a party that thrives on propaganda and the money they have stolen is so horrendous and they keep talking about corruption." He said.
Lamido further stated, "Today, there is blood everywhere. We can no longer sleep with our two eyes closed due to killings and kidnapping by undesirable elements nationwide.
"Nigeria has a long history of crisis, including coup de tat among other vices and our leaders must put human consideration above other parochial interests so that the country can be better.
"We must uphold and stand for our brotherhood. We should be there for each other either as northerners or southerners, easterners or westerners", he said adding that Nigeria as a symbol of the black race must be above board to live up to its status.
"Nigeria is a symbol of the black race meaning that any black man in diaspora look up to Nigeria for leadership. We must be mindful of what we do because whatever we do affects others."
"We must work for a united Nigeria and secure the country from the hands of bad leaders," he stated.
Source: Naija News