Buhari's Administration Treats PDP As Thieves And APC As Saints – Lamido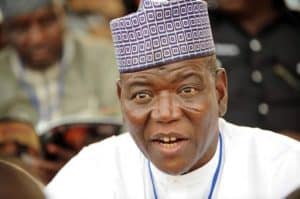 Sule Lamido Canvasses For Support In Bauchi
Alhaji Sule Lamido, People's Democratic Party, PDP, presidential aspirant, has implied that the President Muhammadu Buhari has made Nigerians become so starved that they cannot protest against the hike in the prices of essential commodities in the country.
Lamido made this claim in Bauchi Tuesday evening when he addressed delegates and supporters of the PDP in Bauchi State.
The former Jigawa State governor urged the delegates to elect him as the PDP candidate to enable him defeat Buhari and restore all rules and values of democracy which, he said, have been destroyed by Buhari.
While the presidential aspirant described officials of the All Progressives Congress, APC-led federal government as thieves who, he said, have deceived and disunited Nigerians along tribal and religious lines, he described himself as a Nigerian who, God willing, will become the President of Nigeria come 2019.
Lamido accused the Buhari administration of being selective in the fight against corruption, stating that "if you are in PDP they said you are a thief, if you are in APC you are a saint, what kind of justice is this. Governor Ortom has spent three years governing Benue State, immediately he dumped APC, EFCC begins investigation of his administration.
"We are aware that APC has shielded corrupt personalities that are supporting the APC. If you are in APC all your corruption are forgiven, but if you are in PDP you are a thief. We are in democracy, you threaten people that you will jail so and so persons.
"A leader doesn't threaten his subjects, he threat them with justice, compassion and mercy, not jail threat and intimidation. (You) can't change the destiny of whoever God has prepared to become the next president come 2019. I believe in the entrenchment of democracy in the country."
Lamido, who traced the history of politics in Nigeria from the first republic down to the present fourth republic, said Nigeria has had more credible and trustworthy leaders like Sir Abubakar Tafawa Balewa, Sir Ahmadu Bello, Dr Nnamdi Azikiwe, Chief Obafemi Awolowo , Late Sa'adu Zungur, and Mallam Aminu Kano to mention just a few.
"Today, APC brought a campaign of hate speech they don't even want you to mention the legacies of our past present and future leaders. You should remember even your fathers at home are trustworthy they are also Nigerians," he said.
The presidential aspirant accused the APC government of bringing untold hardship to Nigerians "by introducing anti-people policies contrary to the fake pledges they make during the electioneering campaign, today there is high cost of living in all aspects of life.
"After he pledged to end insurgency, reduce the price of petrol and improve people's welfare which all turned out to be blatant lies. Now, the people have known better and that will manifest in the 2019 polls."
Lamido urged Bauchi delegates to elect him as the party's presidential candidate and to prepare to make sacrifice and endure more hardships through threats and intimidation "that will come from the APC government in their quest for reelection".
He assured them that with patience, perseverance, hard work and determination, PDP will win the 2019 presidential election and will win other elective positions.