Soldiers Kill More Boko Haram Fighters In Borno State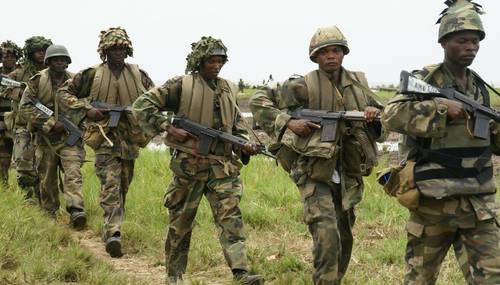 Troops Kill Boko Haram Terrorists In Kulamari
Troops of 82 Division Task Force Brigade deployed in Operation LAFIYA DOLE on Sunday 26th August 2018, confronted some Boko Haram terrorists in Kalamari, Borno state.
The troops, while on fighting patrol at Kukawa general area, got information on the terrorists activities in Kalamari village 30 Kilometres to Kukawa town Borno State.
Information made available to Naija News by the Director, Army Public Relations, Brigadier General Texas Chukwu, revealed the Boko Haram terrorists were on a looting and extortion mission in Kalamari village before been confronted by the gallant troops of Operation LAFIYA DOLE.
During the encounter following a superior fire power of the troops, three members of the Boko Haram Terrorists were killed.
Items recovered include: three AK 47 rifle, two magazines, four rounds of 7.62mm ammunition.
Meanwhile, the gallant troops have continued with aggressive fighting patrol, as efforts are on by the troops to track down other fleeing members of the Boko Haram Terrorists from any hideout, after they successful extricating the villagers.
Members of the general public are advised to report any suspicious movements or activities in their general area to the law enforcement agents for prompt action.
Source: Naija News