2019: Sule Lamido Blast APC Over Alleged Encouragement Of Vote Buying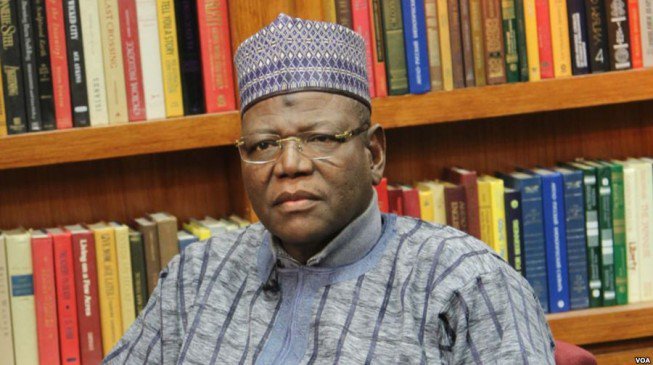 Lamido Preaches Unity Ahead Of 2019 Elections
Nigerian presidential candidate of the main opposition party,Peoples Democratic Party (PDP) , Dr. Sule Lamido, has accused the All Progressive Party (APC) of encouraging vote buying and selling through their "policy of pauperising Nigerians."
Naija News gathered that the the former Governor of Jigawa State, said this in Lokoja yesterday while addressing PDP delegates in continuation of his nationwide tour to drum support for his presidential ambition.
He said after almost four years in power, APC leaders cannot honestly and confidently say they have improved the lives of ordinary Nigerians.
"APC has made it a policy to institute poverty and that is why people are ready to sell their votes for a pittance."
"If you appoint somebody into an office, you must give him proper supervision. That is where the difference lies. If I put somebody in a position of authority, I will give him close supervision," he added.
He described Nigeria as the father of other African nations, adding that whatever happens in the country will impact positively or negatively on other countries, and that is why "we need a government with positive ideology and not a government without ideology to move the country forward."
The PDP presidential aspirant also described PDP as the only party with history which had remained stuck with its positive ideology, putting human beings first in implementing its programmes in the 16 years it ruled the country.
Lamido called for trust among the different ethnic groups in the country to guarantee peace and stability.
"What is most important in Nigeria is human being first, but for how long shall we be killing ourselves? There must be trust to guarantee peace and stability.
"PDP is a party for all in Nigeria. It is the only party that has remained unchanged when other parties are metamorphosing.
"It is the only party with history, with respect for the people compared to APC which is designed to stigmatise Nigerians; a party without ideology, and whose only programme is to demonise the people. Therefore, Nigeria must unite and say no to APC.
"Your party have been demonised enough, so we must take back our honour and pride. How do you build a country by destroying its people through dehumanisation? APC is employing instruments of oppression harassment and intimidation through series of lies," he added.