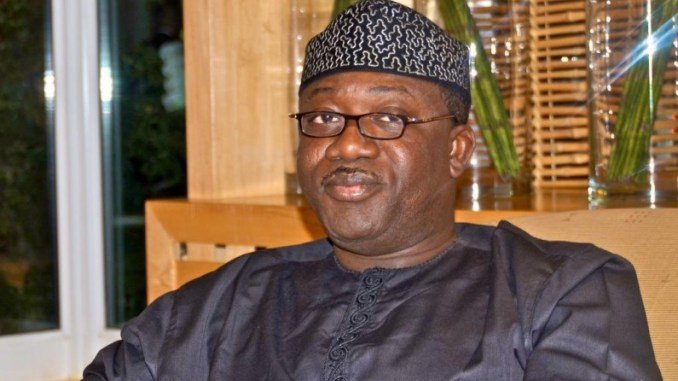 Dr. Kayode Fayemi, the Governor Elect of Ekiti State has given reasons why he would likely probe the outgoing governor of Ekiti State, Ayodele Fayose.
According to Him, contrary to the claims sponsored by the PDP, his probe call is not born out of a vendetta mission but an attempt to know how the state finances were managed when he takes office on October 16.
According to him, despite the three tranches of bailout funds, Paris Club refunds, Budget Support Funds and secrecy with which the Internally Generated Revenue (IGR) is shrouded in the last four years, he wants to understand the reason why the state government owes several arrears of workers' salaries and pensioners' benefits.
"The ongoing staff upgrade at the university to create vacancies for employment is a subtle means to ensure that Governor Ayodele Fayose's political agents occupy strategic positions they may not have competences to hold." he said.
The governor-elect admonished Gov. Ayodele Fayose and his media handler to accept defeat in good faith for the good of Ekiti People.
Wole Olujobi, Director of Media in the Office of the Governor-elect, in a statement also urged Fayose to be prepared for life outside office and answer various alleged criminal cases hanging on his neck.
"We are not surprised that it is now that Fayose is saying that he is ready to open the state's books for probe and we wonder why he had refused to let Ekiti people know the state's IGR figures in about four years while nobody knew how he spent budget support facility, Paris Club refunds and bailout cash.
"Rather than continue to brag shamelessly and issue tissues of lies as press releases as he has been doing in the last four years, Fayose should bury his head in shame for misusing the opportunity of redeeming his battered image.
"Fayose is one of the luckiest men in history, who has a second chance to redeem himself but he blew it because of greed, arrogance and covetousness.
"We are also surprised that a beneficiary of 2014 poll fraud through criminal manipulation of Federal resources is the one now describing the free and fair election that produced Fayemi as flawed after Ekiti people went to poll to take their destiny in their hands by voting for Fayemi who can be trusted with power and resources of the state unlike Fayose who secretly collected N117b loans but refused to pay workers their salaries and pensioners' entitlements.
"We advise Fayose to brace up for life after government, especially to render accounts of his stewardship to Ekiti people in the last four years and must also be prepared to defend himself over a plethora of criminal cases hanging on his neck." Fayemi said.
Fayemi cautioned EKSU Vice Chancellor, Prof Samuel Bandele, against pandering to the preferences of the governor in the running of the university.
"We know that the strategy is to create more problems for the incoming administration, more so that the decision to employ more hands was taken after the People's Democratic Party (PDP) lost the last governorship election to the All Progressives Congress (APC).
"The manner of the ill-motivated appointments lacks merit, coming at the eclipse of Fayose's administration after failing to recruit staff in the last three years during which time staff were not motivated and infrastructure left to rot away." he added.