Ekiti Election: APC Supports The Deployment Of Soldiers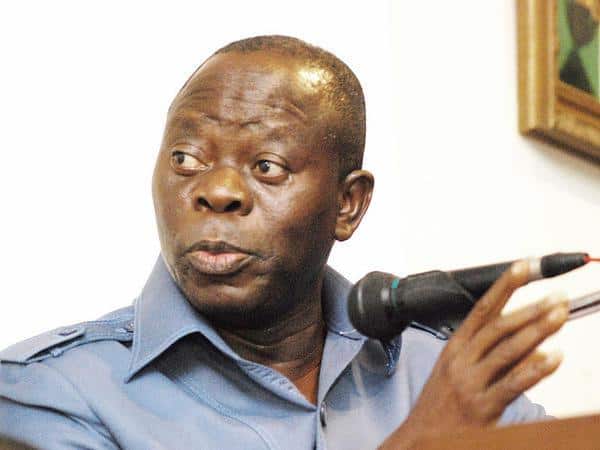 Security During And After Elections Must Be Guaranteed – Oshiomhole
Adams Oshiomhole, the National Chairman of All Progressives Congress, while reacting to the forth coming election in Ekiti State, has stated that he will not stand against the deployment of soldiers ahead of the July 14 election.
The statement was made by Oshiomhole, while speaking with reporters at the National Secretariat of APC, after a closed-door meeting with the British High Commissioner to Nigeria, Paul Arkwright, in Abuja, on Monday.
The APC Chairman reacted to the questions on the deployment of 30,000 policemen in Ekiti and whether soldiers should be deployed to strengthen the security arrangement.
He stated that the number of policemen deployed to the state should not be the issue but their capacity to attend to situations arising during the course of the election.
Oshiomhole said, "Whether they should use the military or not, I don't think you want to argue that. Over the years, since 2003, 1999, the armed forces have always been deployed.
"Don't forget, when I was in Edo state, I told people that I wanted the armed forces to be involved in the election because the rigging machine is serviced by criminals who are hardened and who are often hired.
"Now, if you have criminals wielding AK 47 rifles on an election day, and the police are overwhelmed, you want to say the army should not be deployed?
"We shouldn't worry about who we deploy; I think we should all pray that however people are deployed that in the end, we are not counting dead bodies.
Paul Arkwright, the British High Commission, who also spoke, reiterated the interest of the British Government in Nigeria's democracy.
He said, "The British High Commission will be sending a team there to observe the election and to ensure that they go smoothly, to ensure that INEC can do its job, that the security forces do their job and basically, to ensure that the people of Ekiti State are allowed to freely express their opinion, to vote along with their conscience and to be able to do so in a peaceful manner."