June 12: Aregbesola Explains Why Proposed MKO Abiola Airport Project Is Not Ready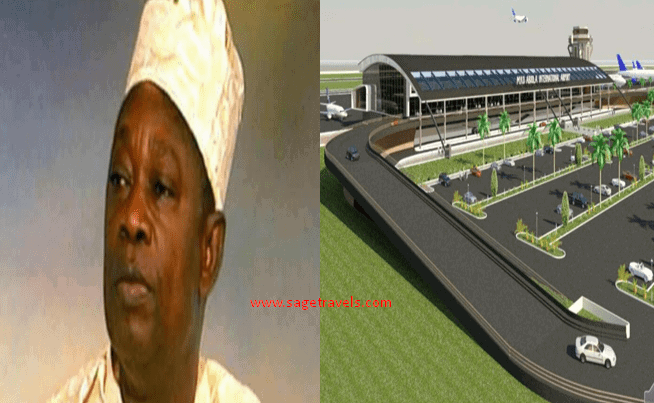 Aregbesola Speaks On The MKO Abiola Airport Project
The Osun State Governor, Ogbeni Rauf Aregbesola, has unexpectedly shocked his audience during an interactive programme tagged "Ogbeni Till Break" as he lamented the failure of  MKO Abiola Airport Project which went into a concession agreement to a private firm, AWOL International Limited for N69 billion.
Naija News understands that though, his declaration was blunt, the governor only chose to tell the truth, with the conviction of letting the people of the state know the stark reality about the project.
The development also deflated the rising hope of not only the natives of Ido-Osun, but also the majority of Osun people, who had hitherto anticipated the potential of such a promising project as a catalyst to positively drive the socioeconomic and tourism sub-sector in the state.
Inadvertently, the community began its journey into limelight when soldiers of the British Empire and Nigeria Army constructed an airstrip within the community's domain, where war veterans, who fought World War II, were airlifted with cargo planes to the battlefronts.
Decades after this historical feat of Ido-Osun, former Governor of Osun State, Prince Olagunsoye Oyinlola attempted to construct a modern airport at the same expanse of land, where the outgoing governor Rauf Aregbesola had attempted the completion of the construction of the MKO Abiola International Airport.
Aregbesola while given the reason for the failed project  said the government had planned to embark on the project and deliver at the appropriate time but was hindered by the financial situation of the country.
The governor emphasised that "We are doing something that is really extraordinary to make this state a light bearer of Nigeria. When I began the entire project: the airport, roads, the schools and other social infrastructure, I was so sure that if there is no problem with the stream of income, definitely all these projects will be completed. The arrangements we put on ground are to ensure effective completion of those projects, after all we did not use the conventional method of financing our projects, rather we brought to bear what we called 'flexible funding' which we pay the contractor at when due through the bank.
"However, it was the change of the income scheme that constrained us financially which made it impossible for us to continue with the project. But before the fund initiation from our scarce income, we had expended on the project the sum of over N2.5 billion. The contractor handling the project had done a certified work amounting to N3, 667,178,112.15 meaning that the outstanding for the contractor against the state is the sum of N640,970,164.10 and these amounts included retention of N170, 609, 64.16."