North Korean Envoy Delivers Letter To Trump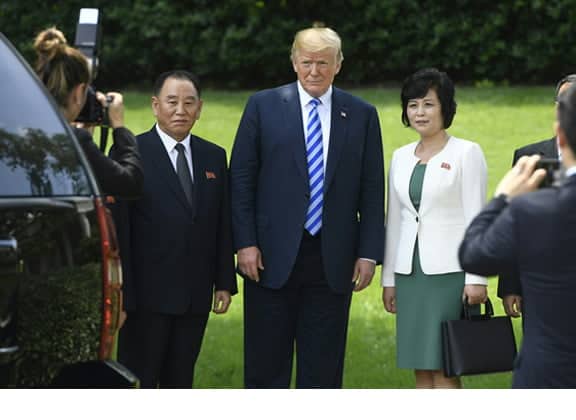 A letter from the North Korean leader to Donald Trump in the White House by Kim  Jong-Un's top aide ahead of a planned summit between the two men in Singapore later this month.
A former spy chief and four-star general, Kim Yong-chol, became the first top North Korean official to be seen in the White House in 18 years.
He was met outside the West Wing by the White House chief of staff, John Kelly, and the head of the CIA Korea department, Andrew Kim, who ushered the 72-year-old regime veteran into the Oval Office to meet Trump and hand over a personal letter.
Far from being hustled in through the back door of the White House, Kim was welcomed at the south lawn entrance in front of massed ranks of cameras and escorted to the Oval Office, where the secretary of state, Mike Pompeo, was waiting with Trump.
The ceremonial arrival represents a propaganda coup for a regime that has endured decades of isolation, and raises the possibility that the summit between Trump and Kim Jong-un will go ahead in Singapore on 12 June or soon after.
The content of the letter was not immediately apparent, though the Wall Street Journal reported it simply expressed Kim's interest in going ahead with the Singapore summit, and does not change North Korea's negotiating positions. (NAN)