Ekiti Election: PDP Accuses APC Of Buying Voter's Cards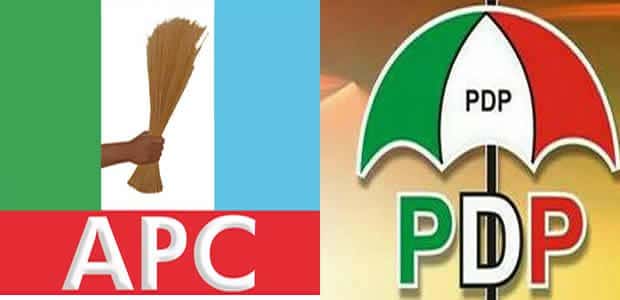 PDP Attacks APC Over Scheduled July 14 Ekiti Governorship Election
The Peoples Democratic Party (PDP) in Ekiti state, has accused the All Progressives Congress (APC) of buying and stocking voter's cards ahead of the July 14 governorship elections in the state.
The Prof Kolapo Olusola Eleka campaign organization made the allegation, calling for better vigilance by the people of the state.
Director of Media and Publicity of Kolapo Olusola Campaign Organisation, Lere Olayinka, said in a statement on Thursday, that one Ogunyemi Temitope was apprehended by vigilant people of Aiyede-Ekiti, Oye Local Government Area at about 12 noon on Thursday, while collecting voters cards and bank account numbers from unsuspecting members of the public.
Olayinka said; "Today, eagle-eyed people of Aiyede-Ekiti apprehended one Ogunyemi Temitope and her accomplices, who were buying voters card. They were taken to the palace of the Attah of Aiyede Ekiti, Oba Oba Abdumumini Orisagbemi, from where they were moved to the Aiyede Ekiti police station.
"The lady, who claimed to be an election observer, was said to have collected voters cards and account numbers of more than 30 people, promising that N28, 000 will be paid into their bank accounts. She said that buying of voters cards under the guise of election observers was being done across the State that those whose voters cards were collected in exchange for N28, 000 will not be able to vote.
"Some of the cards already collected belonged to Adebiyi Adekunle, with his UBA Account number 2077932145, Omotoso Abiodun, Ajayi Taiwo Amos, Bamidele Funmilayo, Fayose Mary, Ojo Emmanuel Kehinde, Irewole Yinka Motun, Olowokere Titilayo, Ojo Bamidele Oluwaseun and others.
"It later took the intervention of the Attah of Aiyede Ekiti and the Olumojo of Imojo Ekiti, Oba, who visited the police station for Ogunyemi Temitope and her collaborators to be released with strong warning never to come to Aiyede Ekiti and its environs again.
"It should be noted that we have earlier raised the alarm over a Form being distributed by the APC under the guise of Ekiti Development Front, purportedly for empowerment. It is one of the sinister plots by the APC to deactivate voters card, thereby preventing thousands of electorate from voting on July 14, 2018.
"The evil plot is aimed at first collecting Voters Cards numbers and later asking for submission of original Voters Cards for Biometric Exercise so as to be qualified for the fake empowerment scheme.
"Ekiti people are therefore urged not to surrender their voters cards to anyone under any guise."
Source: Naija News