North, South Korea Leaders Meet Over Trump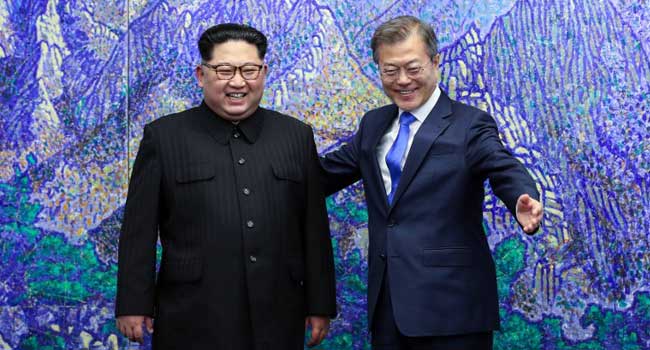 For the second time in a month, South and North Korea leaders make sure the historic meeting between North Korea leader Kim Jong Un and the U.S. President Donald Trump, still holds.
North Korean counterpart Kim Jong Un met his South Korea Counterpart, Moon Jae-in in the demilitarized zone to discuss the peace commitments they reached in their first summit.
The meeting between Trump and the North Korean Leader have been in doubt as a result of the demands for the meeting to happen.
The meeting between the Korean leaders came hours after President Donald Trump suggested his June 12 meeting with Kim may still go ahead
Moon, according to the blue house would personally announce the outcome of Saturday's summit on Sunday.
Report has it that the two leaders spoke at length for two hours about the possible and potential of the June 12 meet between Kim and Trump still happening.
The meeting came hours after South Korea expressed relief over revived talks for a summit between Trump and Kim following a whirlwind 24 hours that saw the U.S. president cancel the meeting.
In their first summit in April, Kim and Moon announced vague aspirations for a nuclear-free Korean Peninsula and permanent peace, which Seoul has tried to sell as a meaningful breakthrough to set up the summit with Trump.
Source: Naija News