Ex Ekiti Deputy Gov, Slams Fayose, APC, Gets PANDEL Ticket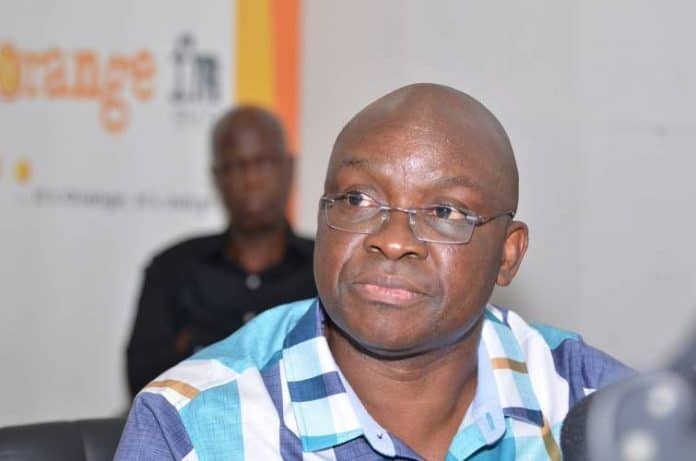 Adebisi Omoyeni Mocks Fayose, APC
Adebisi Omoyeni, a former Group Managing Director of Wema Bank Plc, has been declared as the candidate of the People Alliance for National Development and Liberty Party.
Omoyeni' name was among the 35 listed candidates in the governorship election in Ekiti by the Independent National Electoral Commission for the July 14 election.
He was once a deputy to Governor Ayodele Fayose of the state, recently defected from the Peoples Democratic Party to pursue his governorship ambition.
While speaking newsmen in Ikere-Ekiti, his home country, Omoyeni said the two parties had failed the people of the state and therefore, he would provide a credible alternative.
"We will inspire and make our people to believe in government and leaders once again through this campaign and when we win we shall work day and night to revive the state."
The former deputy governor criticised the Fayose-led administration for owing workers salaries.
"A government that met two salary arrears and increased it to eight months is a total failure. A number of people will form alliance with me, we need to save the state from rabble rousers."
Omoyeni said if elected, his administration's industrialisation agenda would be anchored on agriculture and education to give the state a new economy and change the character of the state from the civil service state tag.
He promised to create at least 10,000 high-paying jobs within four years through agriculture and agro-allied jobs.
"Within four years we will work to give Ekiti a new character different from the tag of civil service state. Our government will target rice, cocoa and cassava production and build industry and wealth around the value chain by partnering with key industries and private sector.
"We will create 10,000 quality jobs through integrating production of rice, cocoa and cassava with industrial processors. We will bring young people into farming by organising them into cooperatives and link them up as out-growers to industrial off-takers," he said.
Lamenting the poor revenue to the state, the PANDEL candidate assured stakeholders that he would increase the monthly state IGR to at least N1bn within 18 months without imposing tax on the people.
"A major crisis facing Ekiti State today is very poor revenue profile. My administration will tackle this headlong and my experience as a banker will be leveraged to achieve this within a very short time.
"We will unlock the dead economic assets of the people by ensuring within 12 months that our people can have C of O on their landed properties which they can use to access credit from banks to do their businesses."