Stop Chasing Shadows; Pay Workers' Salaries- ADC Candidate To Fayose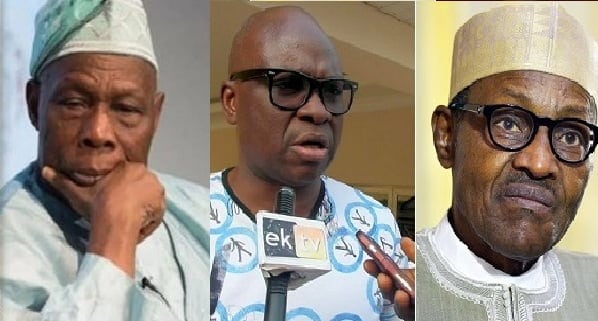 Ayodele David-Adesua Reacts To Fayose's Comments On Buhari And Obsanjo, Tells Him To Face His Duties.
Ekiti gubernatorial candidate for the African Democratic Congress (ADC), Chief Ayodele David-Adesua has reacted to Gov. Ayodele Fayose's comment On Buhari and Obasanjo over the $16 billion spent on power supply during the former's administration.
The ADC Candidate who also advised Fayose to concentrate on solving domestic problems noted "…unlike Fayose, neither Obasanjo nor Buhari owed workers' salary during their own administrations in Nigeria",
In a statement by his media aide, Gbenga Ogedengbe, Adesua advised Fayose to use his remaining days in office to pay workers' salaries and stop chasing shadows.
He said Ekiti people are not happy with their high rate of poverty, which has spiraled out of Fayose's control over alleged wastage on white Elephant projects.
Adesua who described Fayose's comments on Obasanjo and Buhari's public spat as "senseless and unpatriotic." said
"The maturity displayed by the Yoruba ethnic group when MKO Abiola died would not repeat itself if anything whatsoever happens to Chief Obasanjo this time around."
"We are worried about the growing desperation of Mr president.
"President Buhari should try and contain his growing desperation to stay beyond 2019 while he is also warned not to consider doing anything evil to Obasanjo as an option."
"Because the consequences, no Fulani herdsmen can withstand, even the United Nations Joint Military Task force may not".
He said Fayose should try and pay long owed workers' salaries rather than prying into such matter which is not part of his duties as governor explaining that people are not happy about the high degree of impoverishment which the Governor had plunged them into by his reckless and lavish spending of their Commonwealth on frivolities.
"For Fayose not to have realised that the two conflicting leaders are even better than him is an evidence that he (Fayose) doesn't think.", Adesua added.