PDP Demands Probe Of President Buhari's Oil Subsidy Regime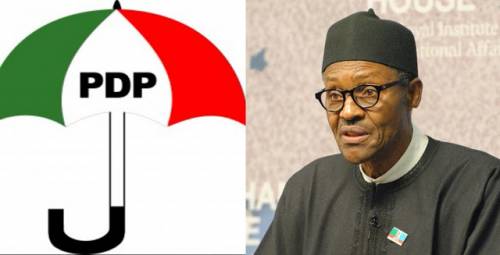 PDP Slams President Buhari Over Payment Of Oil Subsidy
The Peoples Democratic Party (PDP) has accused President Muhammadu Buhari of corruption over the fuel subsidy regime of his government, throwing its weight behind state governors' query of the subsidy regime.
The main opposition party has also challenged the President to expose all shady financial deals going on within his administration.
The party also called for the probe of financial transactions going on in NNPC.
According to a statement issued by Kola Ologbondiyan, the party's National Publicity Secretary in Abuja on Sunday, Nigerians deserve to know the truth about the fuel subsidy regime.
The party stated: "Nigerians will also understand how the cost of fuel geometrically rose from the PDP subsidized the cost of N87 to N145, representing a criminal N58 tax, per liter of fuel.
"Nigerians recall that it took over two years of secret oil subsidy deals under President Buhari before it was exposed last December. Since then, the Presidency and the NNPC have been seeking ways to cover the fraud which include claims that local consumption suddenly jumped from 28 million liters per day to 60 liters per day.
"PDP considers this as a fabrication to retire the billions being stolen as subsidy, even when statistics by the National Bureau of Statistics and the reality of the retarded purchasing power of citizens, under the prevailing economic recession, do not validate such claims.
"Nigerian, therefore, deserve to know who authorised the payments and the identity of the beneficiary companies, if any.
"The PDP is happy that state governors across the board and the National Assembly are on the same page with our party in condemning the humongous fraud going on under President Buhari's fuel subsidy."