Fayose Instructed Us To Pick N1.2b In Akure Airport – Zenith Bank staff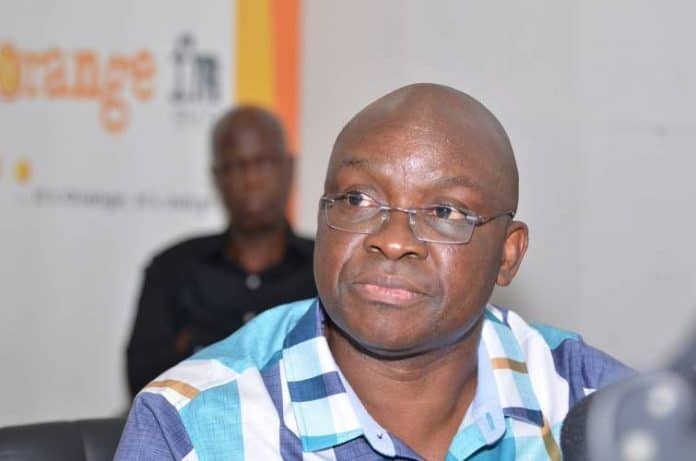 A senior officials of Zenith Bank has, before A Federal High Court in Abuja on Monday, disclosed how Ekiti State Governor, Ayodele Fayose, allegedly directed  officials of Zenith Bank to collect the N1.2billion received from the Office of the National Security Adviser (ONSA) for the preparation for the 2014 governorship election in the state.
Lawrence Akande, the senior officer of the bank made this revelation while testifying as the second prosecution witness in the trial of Fayose's aide, Abiodun Agbele.
Agbele is facing an 11 count charge of money laundering alongside others.
According to the prosecution, the money formed part of the N4.7billion allegedly transferred from an account belonging to ONSA, to the account of Sylvan McNamara, a company allegedly owned by son of a former Minister of State for Defence, Musiliyu Obanikoro.
Wahab Shittu, the Lead in evidence by prosecution lawyer, Akande narrated how he received instruction on phone  on June 17, 2014 from Fayose, directing him to liaise with Agbele to pick up some money in Akure.
"On June 17, 2014, Mr. Ayodele Fayose called me and said that I should liaise with Mr. Abiodun Agbele about a deposit to be made in the bank.
"He (Fayose) said the deposit will be coming through Akure. And I called Biodun Oshode, who is in Akure to liaise with Mr. Abiodun Agbele. And that is all I know about this issue." Akande added.
He stated further that Fayose, Agbele and the governor's wife are customers of Zenith Bank.
Source: Naija News