Father Of Two Sentenced To 5 Years In Jail For Rape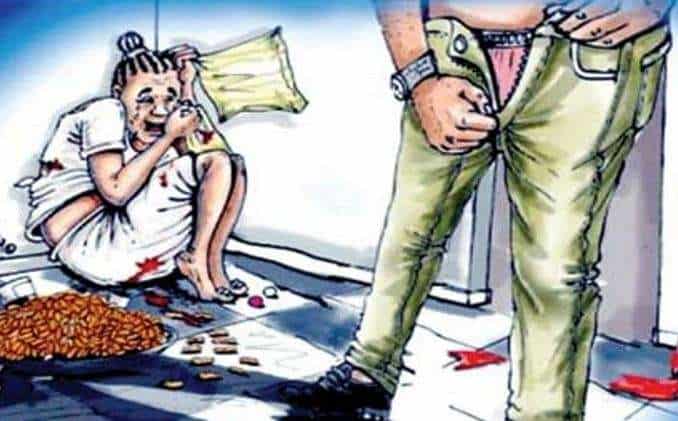 Man Bags Five Years In Jail For Raping A Ten Year Old Girl
A 42 year old father of two whose name was given as Thompson Ojo, has been brought before an Ondo State High Court, sitting in Akure, the state capital, for allegedly raping a ten year old girl and the judgement of the case led to the man been sentenced to five years imprisonment.
Sergeant Olaniyi Ogunsusi, the Police prosecution witness in Thompson Ojo's case, revealed that the convict was brought to the court for allegedly having carnal knowledge of his neighbour's child.
Ogunsisi while narrating the case in the court revealed that the incident took place at 1, Bayode Street, Ijoka Road, Akure.
The victim whose name is withheld revealed that on the day of the incident, her father had gone to the farm and her elder sister was not at home when the accused person sent one of his sons, whom she called Peter, to call her on the pretext that he wanted to send her on an errand.
She revealed that when she arrived at the accused house, he sent his son out of his room, he grabbed her and threw her on the bed, she further revealed that she kept on demanding for mercy while the act was been carried out.
She revealed that she cried out of the pain she was feeling but he covered her mouth with pillow in order to stop her cries and shout for help. Also, the victim's father, Adeleke, who also testified said when he came back from the farm he discovered the blood stains in the accused room.
He said he was told that the victim had been taken to the hospital by her elder sister as their mother was dead. He testified that the blood stains in her room and the corridor was much and it took him a while to clean them up.
Dr. E.O Babatunde, a medical expert who also appeared in court said "through examination, deep lacerations were discovered in the girl's private part and there was much bleeding from her body, which indicated that there was indeed a penetration.
Ogunsusi also tendered before the court, the stained pant of the victim, the stained bed-sheet of the accused and the pillow case as evidence.
His Defense counsel, Mr John Olowookere, pleaded with the judge to temper justice with mercy as the accused person was a first offender.
In his ruling while delivering judgement, Justice William Olamide said "the graphic testimony of the witnesses and the proximity between the victim's family and accused family indeed showed that indeed the accused was guilty of the charges preferred against him.
Justice Olamide said the overwhelming evidence against the convict showed that Ojo was guilty and declared his actions as disgraceful, he, thereafter sentenced him to five years imprisonment.