The Promise of Presidency in 2023 By APC is "A Grand Deceit" – Obasanjo Tells Igbo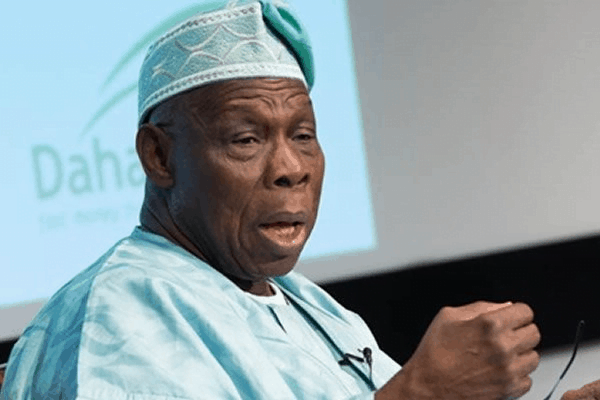 Former President Olusegun Obasanjo on Wednesday called on the people of the South East to vote of President Muhammadu Buhari in the 2019 general elections "in their own interest."
During his speech at the meeting of Coalition of Nigerian Moment in Awka, in Awka, Anambra State, Obasanjo said the Igbo would be the most beneficiary in Buhari's removal.
The described the promise that the Igbo would produce the President in 2023 as "a grand deceit and evil machination."
The Former President, who was represented by the South East convener of CNM, Dr. Okey Nwosu, adviced the zone to "collectively work with the CNM towards ousting Buhari from office in the 2019 general elections."
"The meeting is a wake-up call for Nd'Igbo to dump APC and collaborate with CNM, which is the best alternative for their rescue from poverty, hunger, recklessness and ethnic cleansing in the hands of the Hausa/Fulani marauders.
"Every Nigerian leader is very much embarrassed with the state of the nation where people are attacked, killed, raped and made refuges in their own homes.
"Political leaders must advocate action against these senseless killings and seek how to design a new democratic action plan to ensure we take care of this conundrum democratically, and say, 'Enough is enough.
"If unchecked, these unethical activities will lead to the destruction of the country. It does not augur well for Nigeria's development." he said.
He went further to accuse the All Progressive Congress of perpetuating "carnage and wanton destruction of lives and property across the country."
He said the objective of CNM was mostly on how to "sack Buhari from Aso Rock in 2019 and ensure that a visionary government is elected."
"Nigeria's eminent personalities, including Generals Yakubu Gowon, Ibrahim Babangida and T.Y. Danjuma have all spoken and condemned the killings and destruction in the country.
"If these people can say that the nation needs to be saved from these calamities, the South-East geo-political zone must add their voice to the clarion call." he added.
He also disclosed that the CNM had mobilised no fewer than five million Nigerians to realise its objectives in 2019.