APC Denies Saraki, Tambuwal, Others Are Planning To Leave The Party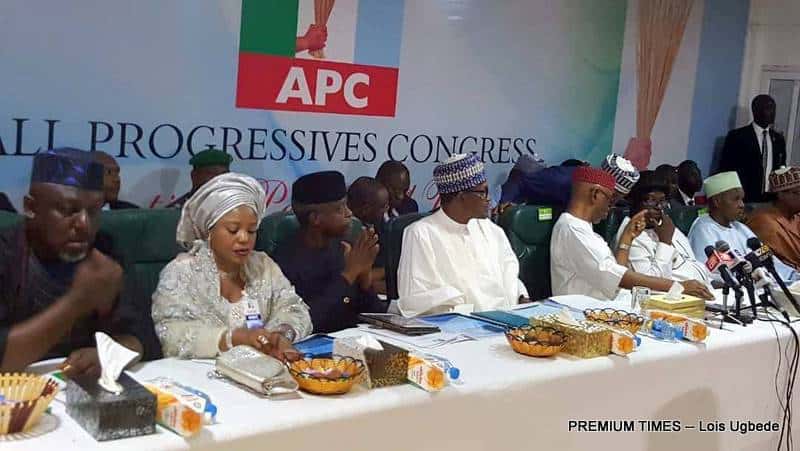 Governor Badaru Responds To Rumours That Saraki, Tambuwal Intend to Decamp To PDP
The news  that the Senate President, Bukola Saraki and the Sokoto State governor, Aminu Tambuwal were negotiating with the opposition Peoples Democratic Party, PDP, to dump the ruling All Progressives Congress, APC has been declared as false.
Governor Abubakar Badaru of Jigawa State on Monday debunked the rumour while fielding questions from State House correspondents after meeting with the Chief of Staff to the President at the State House.
Naijanews had earlier reported that a negotiation might be going on between the aforementioned members of APC and PDP.
He said, "It is not true that Tambuwal and Saraki are negotiating with the PDP, we have not heard of that. Some few weeks back there was rumour about the governor of Benue (Governor Samuel Ortom) and he made it clear at our last NEC that he is not moving anywhere.
"Those are rumours flying around but they don't have consequence. We are united, governor Tambuwal is with us and the Distinguished senator Bukola Saraki, the Senate President is also with APC and we have not had any reason to think that they are negotiating elsewhere, no."
Gov. Badaru also explained that what happened last weekend in the state during the APC rally was not crisis, rather political shunting by different supporters of the aspirants.
"Some groups will shunt for their own and others will shunt for another person and that was what happened. That was a great rally. It is normal in every gathering, you have different supporters supporting different people contesting the same position."
The Jigawa State governor said that the forthcoming APC Congress will be peaceful as the different camps were already united.
On what should be expected from the convention, he said, "We expect a peaceful and rancour free and good convention.
"All members are one. They are all united and I am sure the convention will bring everybody together.
And in democracy, if you are open and straight forward, things get done well, I don't think there should be any problem."