Bode George Breaks Silence On Joining APC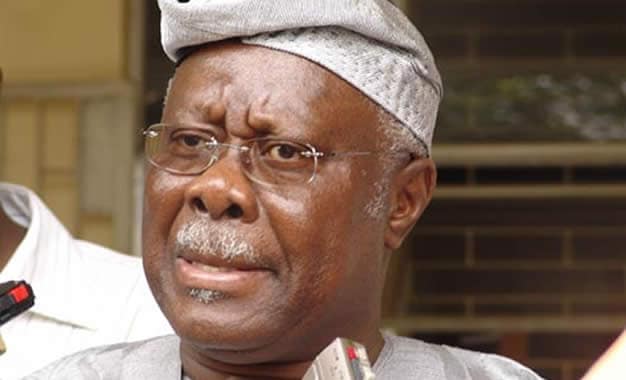 I don't believe in any third force option – Chief Bode George
Chief Olabode George, a former Deputy National Chairman of the Peoples Democratic Party, (PDP), has described the reports of his plan to join the All Progressives Congress, (APC), as a laughable report.
In his statement, Chief Olabode George described the recent claim by Chairman, Conference of the All Progressives Congress, APC States' Chairmen, and Lagos State Chairman of the party, Chief Henry Ajomale, that he wants to dump the Peoples Democratic Party for the All Progressives Congress as day dreaming.
In a statement released to Vanguard, George said:
"Ajomale must be daydreaming. Like I said, the APC is not a party that is national in its outlook. It is a contraption. They are in utter confusion. Look at all the killings in the country today, they are taking place in states controlled by the APC. The central government is also APC. Where is their party? Do they believe they are really members of the same family?
"APC is making the same mistake PDP made when we said we will rule Nigeria for the next 60 years. Nigerians have experienced governance under both parties. Are they better off now than when PDP was in government? My great uncle is the late Herbert Macaulay, so I am a genuine, inroad, in-depth politician because I was born into it. They are not."
Speaking on the chances of the former ruling PDP returning to power in 2019 and the emergence of Third Force, Geroge said Nigerians were already fed up with the current government led by the APC.
He summed it up thus, "Third Force, Seventh Force, Tenth Force, is that the issue? Are the members of this Third Force going to come from outer space? What are they going to do that will be different from what they had done before? The hood doesn't make the monk. I don't believe in any Third Force movement. You stay there and repair your house. That is more honourable."