Daddy Freeze Throws Another Shade At Samklef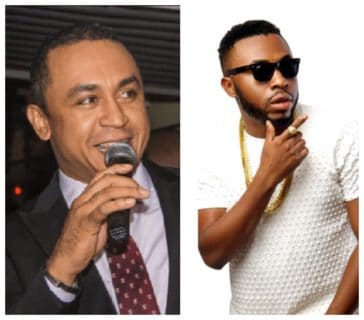 Controversial OAP (On Air Personality), Daddy Freeze and music producer, Samklef, battle of words seems not to be meeting its end at anytime soonest as the Free the Sheeple movement leader has just thrown another shade at the music producer.
Recently, Samklef who took time out on his Instagram to speak against the teachings of Daddy Freeze and how he is misleading the people of God. But in response to this Freeze things he should go back to school so as to learn the act of education. Daddy Freeze claimed his expressions are so poor even a kid in prep school wouldn't have written in such manner.
He also spoken on how Samklef blocked him on his Instagram page to another celebrity because he chose to do what his primary school teacher ought to have done for him 20 years ago.
The beef seem to have meet its rest for few days not until Daddy Freeze threw a shade at the producer. This time, he posted a popular story book Akin Goes to School and edited the title to Samklef Goes To School with an image of the popular producer photo-shopped into the book cover.
According to him, it is never too late for Samklef to go back to school. He then captioned the photo with a post:
"Education is key!It's never too late to return to school!
Keep your kids in school so they don't end up like……..
Calling some people ignorant is an insult to ignorant people. I have worn watches with higher IQs than….?
lol …..The proceeds from this free promo we are giving you should be used for night school, or a private tutor for the elderly as your career don die since!
#CareerNoni
See post below: