Okorocha Insists Son-In-Law Must Be Governor After Him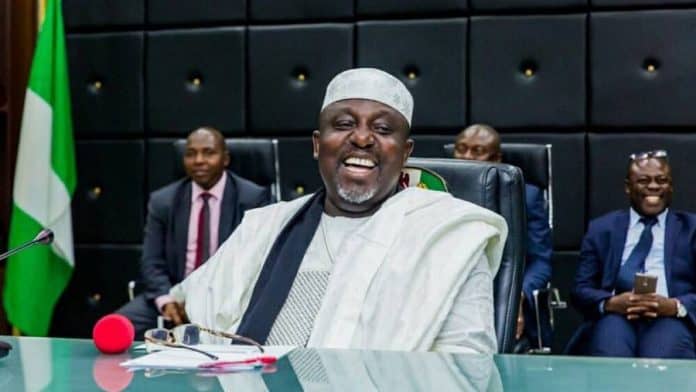 Governor Rochas Okorocha has insisted his son-in-law who is also his current Chief of Staff, Chief Uche Nwosu will succeed him in 2019 as governor of Imo State.
Okorocha said this in a statement signed by his Chief Press Secretary, Sam Onwuemeodo in reaction to rumours suggesting the governor has denied endorsing Chief Uche Nwosu.
The statement says Onwuemeodo already enjoys the support of 24 out of the 27 local governments in the state and also expressed confidence that Nwosu would be victorious at the party primaries and the polls.
The statement as obtained by Naija News reads: "We have read in the media, especially on the social media, a statement falsely credited to Governor Okorocha, that he has not endorsed Chief Uche Nwosu but, rather, considering three people, including Nwosu, Prince Eze Madumere and Chike Okafor.
"That is not true. If there was an atom of truth in that claim, it wouldn't have been a side-talk.
"The governor endorsed Chief Nwosu and gave more than 20 reasons for doing so, in addition to the man's endorsement by students, women, youth groups and 24 out of the 27 local governments in the state.
"In the past 24 hours, Imo people, in particular, have been calling over the false statement credited to the governor on the endorsement issue.
"We have been telling those who called to disregard that statement and continue to work and pray for Nwosu.
"Like we said in one of our media outings to that effect, the opposition in Imo is desperate and extremely worried because they are yet to see any aspirant who can beat Nwosu, either in the primary or in the main election. They are stranded.
"Also, endorsements have been going on across the states, but, in Imo, Nwosu's endorsement is the one being celebrated and talked about.
"In no distant time, we are going to respond to those talking about nepotism to prove to them that such issue is neither here nor there.
"The issue of endorsement has been part of the nation's politics.
"There is nothing strange about it. It does not replace party primary or the INEC organised election.
"Nwosu will win the APC governorship primary and the election proper because human beings are involved in the two activities and not blackmail."