Army Denies Involvement In Kaduna APC Secretariat Demolition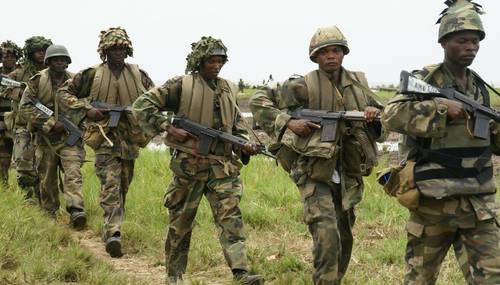 The Nigerian Army has denied the involvement of its troops in the demolition of a factional APC secretariat in Kaduna State.
The Army, in a statement issued by Colonel Muhammad Dole, Deputy Director Army Public Relations 1 Division Nigerian Army, said the allegation that any of its officers were involved in the demolition exercise, was simply an attempt to discredit the hard work of the troops.
The statement noted that troops of the division were actively engaged in the "operation cat race" recently launched in Benue state and therefore, couldn't have been involved in the demolition exercise.
The army statement as obtained by Naija News, reads below:
"The attention of the 1 Division Nigerian Army has been drawn to a Twitter message, report in mass and social media of alleged involvement of military personnel in the demolition of a politician's property by KASUPDA in Kaduna, Kaduna State.
"This is not true. No Nigerian Army soldier was involved in the exercise.The allegation and the attempt to drag the Nigerian Army into the issue of demolition is yet another baseless and unsubstantiated claim to malign the hardworking, loyal and professional officers and soldiers of 1 Division Nigerian Army and discredit them."
"Contrary to claims, the troops of 1 Division have not been involved in any illegal activity of either harassment of politicians or demolition of their properties in Kaduna and its environs."
"Therefore this claim remains the highest mischief and misleading and it is viewed as another calculated attempt to distract our troops from performing their professional duties. Therefore, the public should disregard such false allegation."
"​The troops of 1 Division Nigerian Army will continue to remain apolitical and non-partisan in the discharge of their constitutional roles."
"Presently our troops are dutifully engage in EXERCISE AYEM AKPATUMA (CAT RACE) in Niger and Kaduna states, combating Kidnappings, Cattle rustling, armed banditry and Terrorism.