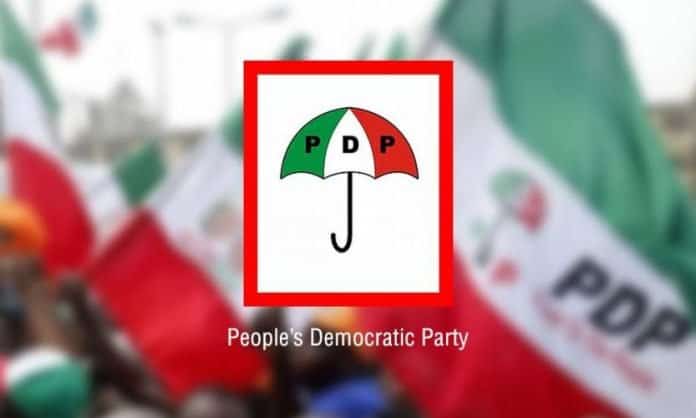 The Peoples Democratic Party (PDP) has commended former president Olusegun Obasanjo for his blistering statement, advising President Muhammadu Buhari not to seek reelection in 2019 due to the deficiencies in his administration.
PDP described the 13-page special press statement Obasanjo wrote to Buhari, titled, THE WAY OUT: A CLARION CALL FOR COALITION FOR NIGERIA MOVEMENT, as courageous and patriotic.
PDP National Publicity Secretary, Kola Ologbondiyan, in a statement in Abuja on Tuesday, said that it was apparent that Buhari-led APC has failed the nation and Obasanjo's advice had revived the fate of the people in democracy.
He said that Nigerians had already decided to vote against APC in the 2019 elections, but noted that the solution "does not lie in creating another political quicksand in a third force but consolidating on a rescue mission with the repositioned PDP which Nigerians have already embraced."
He said, "Expectedly, in their confusion, they have plunged us into this regrettable situation that has brought our nation to its knees.
"PDP maintained that repeating the old mistake of congregating political strangers cannot help our nation at this time, more so, when the few concerns raised by the former President about the PDP no longer obtain under the refocused and rebranded PDP.
"The PDP is now standing on a truly democratic ground that perfectly represents and reflects the hopes and aspirations of all Nigerians irrespective of their class, creed or tribe.
"That is why our great party has now, more than ever before, become a centre of the new patriotic and broad-based engagements by well-meaning Nigerians and coalitions across the board, including past leaders, in rekindling our democratic process that places priority on returning power to the people.
"The fact is that Nigerians overrated President Buhari in 2015 but they have now seen that he never possessed the capacity and the required aptitude to effectively govern our great nation and pilot a healthy economy.
"This accounts for the reason former President Obasanjo, just like most Nigerians today, are concerned about the quality of presidential candidates to be presented by various parties for the 2019 election.
"The fact is that while the APC is already caught up with President Buhari, the PDP is open for a new engagement that will throw up the President, which our nation truly deserves at this crucial moment."
However, the party rejected the call by Obasanjo for the emergence of a third force, Coalition of Nigeria (CN), saying it would result to committing the same mistake that it claimed brought about,"ideologically vacuous APC and the Buhari Presidency" which it said had debilitating effect on the nation.