Libya Slave Trade: OurMumuDonDo Protesters Bound In Chains As They Kick Against Slavery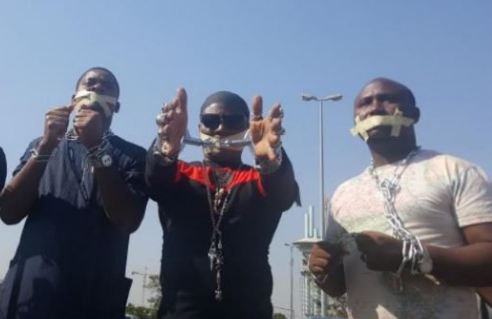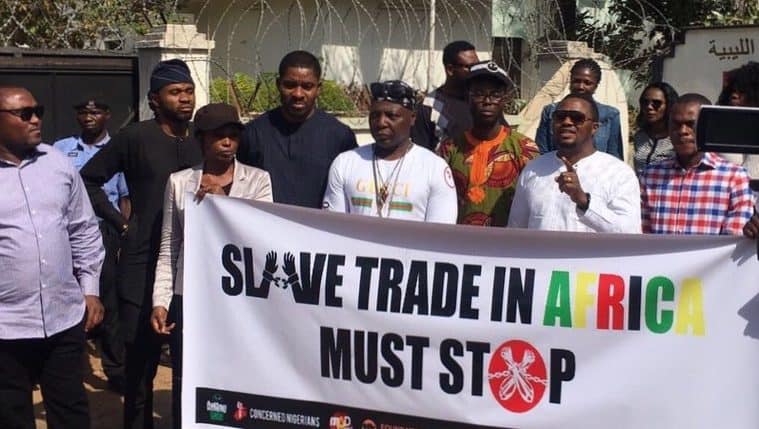 Civil society group, #OurMumuDonDo, led by entertainer, Charles Oputa a.k.a Charley Boy, on Monday marched to the ministry of foreign affairs over the Libyan slave trade.
The protesters, bound in chains with lips sealed, held a banner which read "Slave trade in Africa must stop".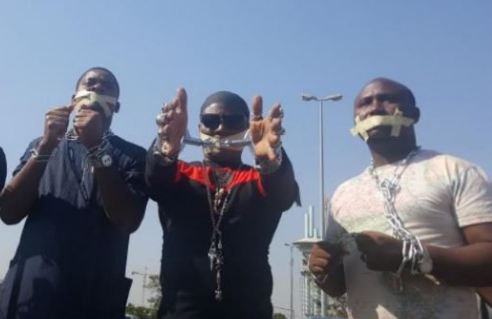 Addressing newsmen, Charley Boy said the Nigerian youth should wake up to their responsibilities and stand up against any form of injustice. He added that said the future of the country is in the hands of the youth.
Another Protest, Deji Adeyanju, explained that they were at the ministry to know what the federal government is doing about the challenges of Nigerians in Libya.
"We are here to highlight to the government plight of our fellow brothers in Libya," Adeyanju said.
"We are here to ask , what government is doing? what step have they taken and what is the situation of Nigerians there? How many Nigerians have been brought back?"
Iliya Danladi Fachano, head of mission to Libya and Malta, said the mission is doing everything possible to ensuring that Nigerians migrants who are repatriated back to the country.
"We visit the detention camps where illegal migrants are detained by the Libya authorities. There are other nationalities in these camps like Ghanaian, Gambian and others. So Nigerian embassy visit that camps to identify its own .
"We identify , register and give them emergency travel certificate . We get their details through International Organisation for Migration ( IOM ) who will tell us that the number of Africans are in this detention camp and this is the number of Nigerians among the detainees.
"The mission carried out the visitation on a regular basis noting that after scheduling their flights the mission would send their manifest to the consular department in Nigeria."
Source: Naija News