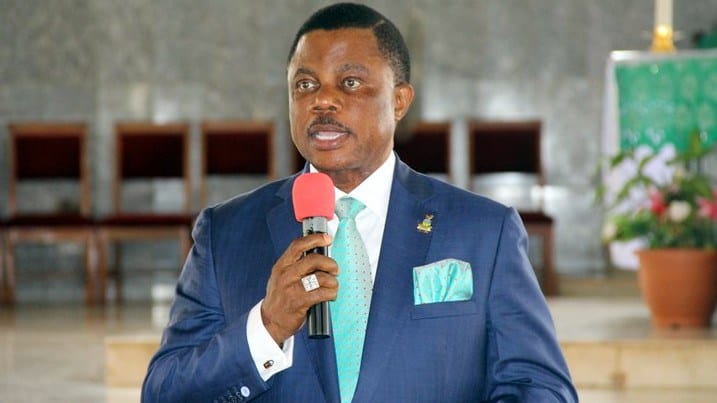 Obiano dismisses Ojukwu's claim.
Governor of Anambra State, Willie Obiano has dismissed a claim that he urged Emeka Ojukwu Jnr, son of the late Igbo warlord, Dim Odumegwu Ojukwu, to return to the All Progressives Grand Alliance, APGA.
Recall that Ojukwu dumped APGA for the All Progressives Congress (APC) during President Muhammadu Buhari's visit to state for the grand finale campaign of Tony Nwoye, the APC Nov. 18 gubernatorial candidate.
Obiano, in a statement, signed by Prince Oliver Okpala, the Senior Special Assistant to the governor on Media and Strategic Communications, said he could not have approached Ojukwu Jnr to return to APGA as he had no political influence and relevance to the party.
"It is a matter of pure pathetic fallacy for the Junior Ikemba to say that Governor Obiano is lobbying him to come back to APGA which he claimed he won't accept."
"In fact nobody knew that he was a member of the party, so on what grounds was he relevant to the fold?" he said.
Read also: The "beautiful piece of information" Tinubu gave me – Buhari
He added, "I wonder what the Great Ikemba would be thinking when his supposed son openly denied the only political entity which he left for us the Igbos as a unifying political umbrella. Ojukwu would no doubt shudder in his grave."
Okpala lamented that it was unfortunate that Ojukwu's son described the Governor of his State as one playing juvenile and local politics, when Ojukwu himself was a man known for respect to constituted authorities.
He therefore, urged Ojukwu to respect to the governor and stop making false claims about him.