Biafra: IPOB insists no real election took place in Anambra state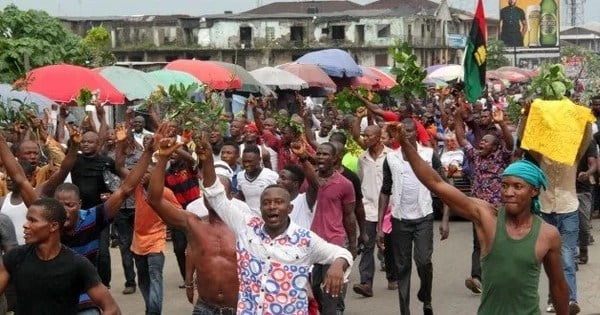 -IPOB claims the boycott of the Anambra governorship election was successful.
-According to the group, less than 10,000 people out of 2.2 million registered voters participated in the election.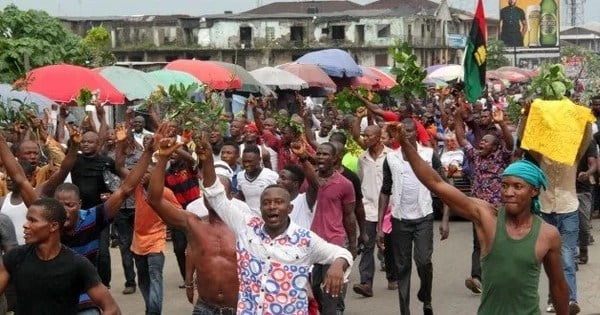 The proscribed Indigenous People of Biafra, (IPOB), has countered the claims by the government and the Independent National Electoral Commission, INEC that the just concluded gubernatorial election in Anambra State was successful.
IPOB claimed that not up to 10, 000 registered voters participated in the November 18 governorship election in the state.
According to IPOB, such low number of voters is not credible enough to conclude there was a massive turnout for the election or that the results truly represented the will of the people.
The submissions by IPOB is as contained in statement by its spokesperson, Comrade Emma Powerful.
"The leadership and worldwide family of the indigenous people of Biafra (IPOB) under the supreme command and leadership of Mazi Nnamdi Kanu condemn the desperate and shameless efforts of the Nigerian Government and her politicians including some government media propaganda machines, who it seems are now the defenders of evil in the land, to discredit and deceive the general public that there was a massive turn out of electorates in the just concluded Anambra state governorship election.
"Nothing could be further from the truth. Going by INEC's own figures of accredited voters, not up to 10,000 people participated in this keenly contested election involving more than 2.2 million registered voters. This represents only 0.45% of the entire electorate.
READ ALSO: Anambra Election: APC, Obaze accept defeat, congratulate Gov. Obiano
"No civilised society will regard such low number of voters as a credible enough number to sustain a democratic mandate of the office of the governor of a state.
"Every conscientious and right thinking person must be appalled at the level of deception and collusion currently going on between the corrupt Nigerian government, her politicians and some unethical media propaganda machines, who are prepared to publish blatant falsehood as part of a wider conspiracy to deny the inevitable fact that IPOB boycott was obeyed by 99.9% of voters in Anambra State. IPOB rendered the whole exercise meaningless.
"What this proves is that IPOB is clearly in the majority in Anambra State with 99% of the registered voters abstaining from the polls. It will be fair therefore to conclude that the whole electorate in Anambra State heeded the boycott order issued by the IPOB leader Mazi Nnamdi Kanu."