I have the powers but I won't depose Olubadan – Ajimobi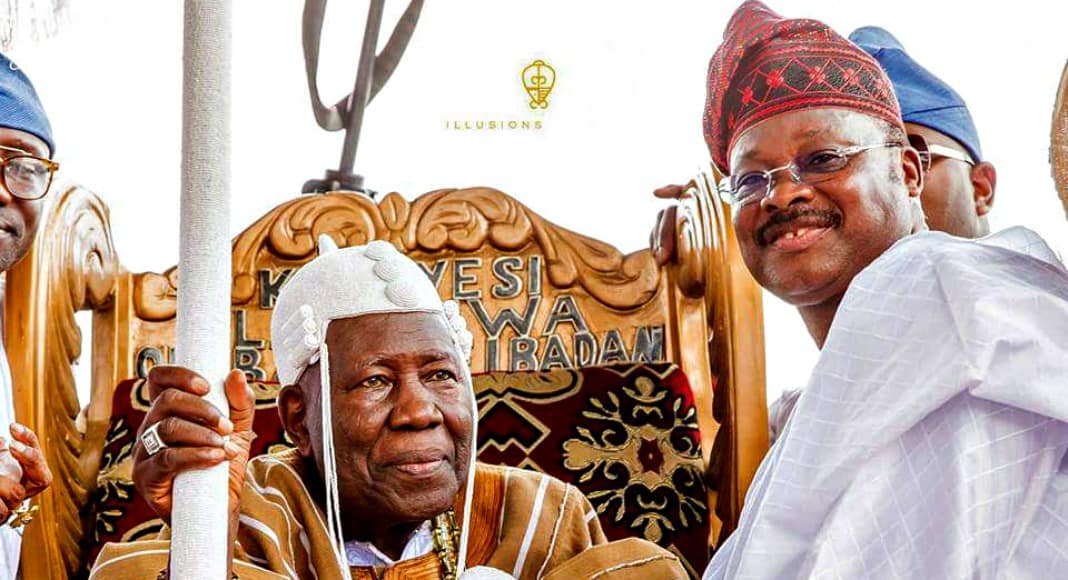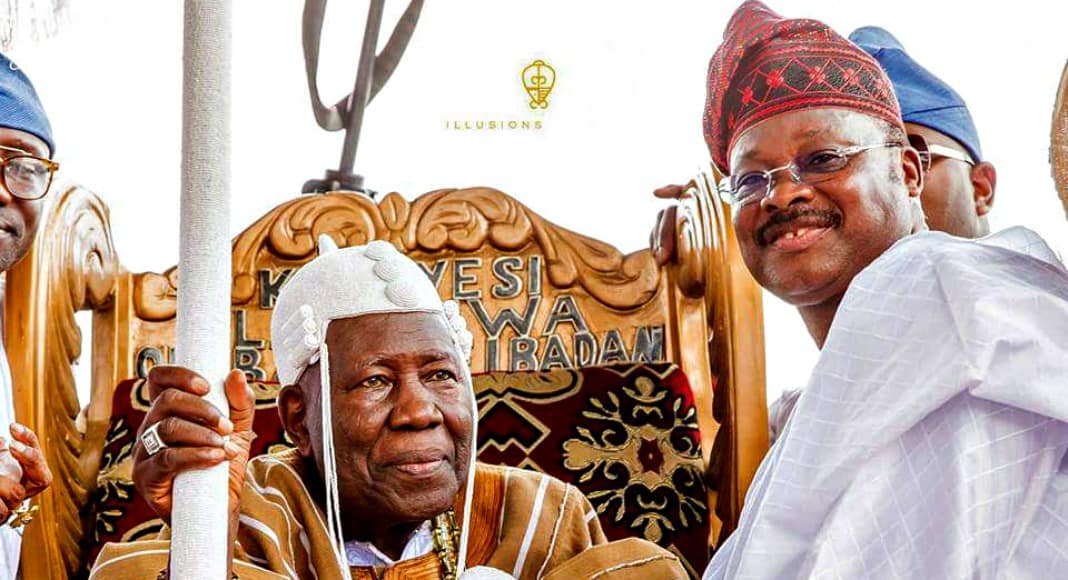 Governor Abiola Ajimobi of Oyo state governor, says though constitutionally empowered to do so if the need arises, he will continue to resist all forms of pressure to depose the Olubadan of Ibadan land, Oba Saliu Adetunji.
The Governor said the sad incident which saw gunmen invade the Olubadan's palace while he was installing some local chiefs, showed that the installation was hijacked by some persons for their own selfish interests.
Ajimobi made the disclosure at a meeting with traditional rulers in the state.
"All the relevant sections of the 1959 chieftaincy declarations are very clear on the powers of the governor viz-a-viz the traditional rulers and the administration and particularly sections 26 and 27 empowers the governor to sanction any erring oba," he said.
"Who bestowed the crown and staff of office on the monarch? Is it not the government? But you see, when a person is in a position as such, he shouldn't wield his powers every time, particularly against someone who one claims to be his father.
READ ALSO: Yoruba man will emerge Nigeria's president in 2019 – Prophet Okolie
"I have found enough reasons to depose him, but I will never do it. If he likes, let him go to the radio or television to abuse me, I don't care and I will never use that against him."
He, however, added that no one is above the law in the state and that everyone must be guided by the dictates of the laws of the land.
"I sincerely believe that considering the relationship that I have with kabiyesi, the olubadan of Ibadan land as a son, as a brother to my late father, as the Aaare of Ibadan land of which the Olubadan honoured me with that title, I will never do anything to denigrate that position of obaship or go to the extent of sanctioning him by removal or suspension or something else," he said.
"We will continue to talk to him. The only unfortunate thing there is tha some failed politicians have taken over the palace and they are doing things that Baba himself is not even aware of nor approve of."
READ ALSO: Two traditional rulers in Kwara state to forfeit 3 months salary
"Olubadan is not the state governor. In this Oyo state, the governor is still the head and leader. My gentility is not cowardice but I am just being careful."
"I am giving you the assurance that I will not remove him. Sooner or later, he will understand better."