Fire Gut Stockfish Market In Oyingbo, Good Worth N120 Million Destroyed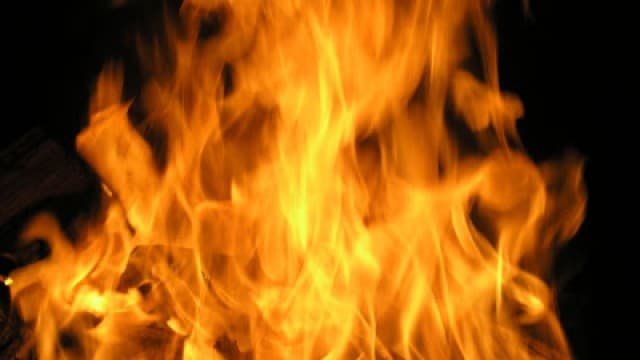 The stockfish market in Oyingbo, Lagos State, on Thursday, was gutted by fire, and goods worth N120 million were destroyed and looted.
According to Vanguard, about seven shops recently stocked with stockfish were raised down as the ashes of the commodity were seen scattered around the market.
Traders who spoke on the development revealed that the fire started after midnight but was put off after more than two hours of battle to tackle it.
One of the affected shop owners, Davidson Okenwa said that he got a call at about 12:30. AM that the market was on fire and that four of his shops were affected.
Okenwa also said a total of seven shops belonging to him were completely burnt and looted as goods worth more than N70 Million were destroyed in the inferno.
He said, "Around 12:20 A M this morning, I got a distress call from that market and I rushed from my house in Ijegun. On getting there I discovered that four of my shops were completely burnt while others were looted.
"I am in a state of distress right because I took a facility from the First City Monument Bank, FCMB. I am totally at a loss as to what to do. The total value of Stockfish destroyed in the fire is over N70 million because I only took delivery of the goods only a day before the fire incident happened."
A major dealer in the Stockfish trade base in the east, Greg Ilobinso, said that the need to have a fire service station at the market for quick intervention cannot be overemphasized adding that the loss at the runs into millions of Naira.
Ilobinso also said that until the Lagos Government sees the need to safeguard the lives and property at this particular market, the government and the traders will keep losing money.
He called on insurance companies to come up with market insurance products with a view to minimizing the losses to victims of such incidents.
The trader said, "I was informed of the situation this morning by some of my customers and I share the pain of the traders whose shops were affected and I hope the Lagos State Government in its magnanimity comes to the aid of the victims and cushions the effect of the losses of the affected shop-owners.
"Imagine if somebody was sleeping inside any of the shops, that would have been worse than what we are talking about now.
"Insurance companies should devise products on fire and burglary insurance in the markets across the country for market people so that they insure their good against fire and burglary so the losses of the victims of such incidents can be minimized."
---
---
© 2023 Naija News, a division of Polance Media Inc.