Lagos: Way Out For People In Flood-Prone Areas During Crisis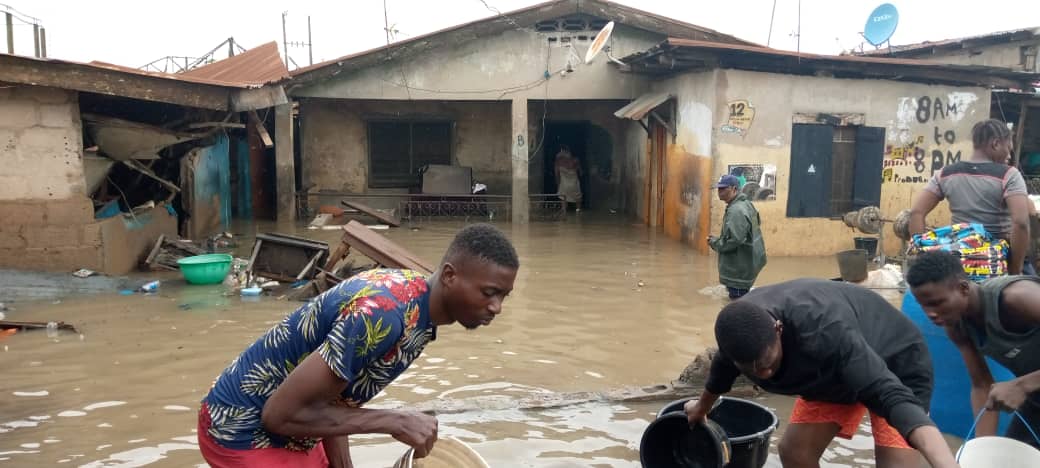 The rainy season is currently at its peak, unveiling a flooding crisis and endangering the lives of about 8 million people in the Lagos metropolis, with the risk of displacement.
Over the past few weeks, flooding caused by the heavy rainfall has submerged several houses across the city, including places such as Ijanikin, Alaba International Market area, Ajangbadi and Etegbi, all in Ojo. 
Other major areas in the flood crisis within the city include Oko-Oba in Agege, Egbede, Ikotun, and Ajegunle.
The flood has left residents stranded, including small and medium business owners, with heavy debts after destroying goods worth millions of naira.
The experiences of the annual flooding crisis in Lagos and its consequences are far-reaching; however, there are proactive steps people living in flood-prone areas can take during the rainy season to ensure their safety, goods and services. 
According to a Water engineer and environment expert at Brunel University in London, UK, Joseph Chibuzor Ihedoro, in an exclusive interview with Naija News, flooding in Lagos results from a flawed drainage system and poor city planning.
Speaking on how people in affected areas can survive during the rainy season, Ihedoro said: "Flood-prone areas are places where water overflows its banks during the rainy season. Those who live in flood-prone areas need to apply what we call flood protection instead of flood management. The difference is that flood protection happens prior to the flooding, meaning taking proactive steps to prevent themselves and their properties from being flooded. While flood management occurs after the incident."
Suggesting best steps for those living in areas prone to flooding, Ihedoro said it is essential to temporarily evacuate the area when it is close to the rainy season or leverage on warning signs pending when the authorities are constructing a perfect solution or a flood risk defense mechanism.
He added, "Flood management is not always recommended because it happens when the tangables like buildigs, cars are destroyed. The only way those living in coastal areas can be safe is to evacuate, pending when the flooding incident has ended. They need to either evacuate or construct flood risk management infrastructures such as embankments, retaining walls, flood control dams and reservoirs, channel modifications, floodwalls, and levees."
What Permanent Solution Can the Government Provide?
For permanent solutions, Ihedoro listed some sustainable solutions governments can adopt to combat flooding in the state and any other states with flooding crisis. 
He said: "The government needs to work alongside with urban planners (these are people that are incharge of planning on where buildings should be cited, where markets should be cited, where residential buildings should be cited, where roads should be cited, they act to guide the governments on what to do and what not to do to avoid damages in the future.
"The government must work alongside the urban planners to ensure that both residential, commercial and industrial buildings are cited and well planned to avoid future cases. The government needs to work with the early warning systems that can forecast flood incidents, especially flash floods which are the most difficult to forecast.
"There should also be allot a lot of funds for urban planning and management and make sure there are adequate plans to build flood defense mechanisms in areas that flood professionals have forecasted that flood incidents are going to happen.
"The problem is the government allocates little or no funds to flood management, which is where the problem begins. It is imperative that the government inject a lot of funds so that urban planners can come up with sustainable flood risk infrastructures."
---
---
© 2023 Naija News, a division of Polance Media Inc.