'Why Tinubu's Meeting With American President, Joe Biden Was Cancelled'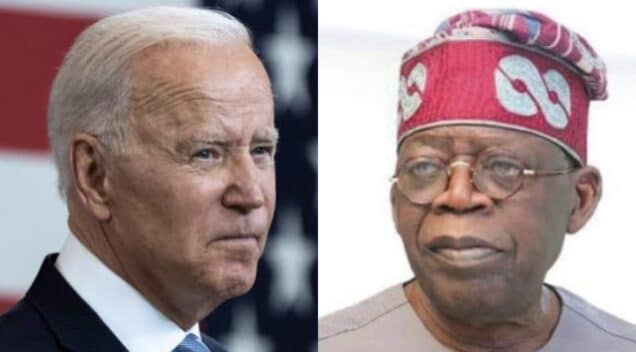 The All Progressives Congress (APC) has explained why President Bola Tinubu didn't meet with President Joe Biden of the United States during the recently concluded United Nations General Assembly (UNGA) held in New York.
The party narrated that the two leaders had met at the G-20 Nations summit in India, before the gathering of world leaders in New York, hence there was no need for a fresh meeting.
The APC in a statement released by its National Publicity Secretary, Felix Morka added that contrary to widespread speculations, there was no agenda of a meeting between Tinubu and Biden in New York on the President's schedule.
It also responded to claims by the media aide to the Presidential Candidate of the Peoples Democratic Party (PDP), Atiku Abubakar, Phrank Shaibu that the Tinubu government was peddling falsehood.
In the statement, the ruling party also said fuel subsidy has not returned but the Tinubu administration only intervened in order to ensure stability.
On the UAE visa saga, the APC assured that discussions are ongoing and details will be made public soon.
The statement reads in part:" Shaibu's claim that fuel subsidy is back is not correct. The government's intervention to ensure some measure of price stability and predictability does not amount to the return of the ruinous fuel subsidy of the recent past.
"Lifting the Visa ban on Nigerians by the United Arab Emirates (UAE) authorities should ordinarily make any well-meaning Nigerian happy. Diplomatic rapprochement between Nigeria and UAE authorities is ongoing and details of outcomes will soon be made public.
"The matter of the proposed meeting with United States of America President Joe Biden does not even require elaboration. Having met with President Tinubu on the sidelines of the G-20 Nations summit in India, another meeting with President Biden during the United Nation's General Assembly (UNGA) had become unnecessary and was not even on President Tinubu's schedule, contrary to preliminary indications on the matter.
"Nigeria is facing pressing challenges that require focused efforts and undivided attention. Issues such as economic recovery, security of lives and property, infrastructure development, and social welfare demand continuous, sustained and innovative efforts.
"President Tinubu is committed to ensuring an inclusive, honest, transparent and accountable governance system. We encourage citizens to actively participate in democratic processes, ventilate their views, and contribute constructively to national conversations. As the discerning people that we are, we remain confident that Nigerians will continue to differentiate between genuine, constructive and development-oriented criticisms and those driven by self-interest, mercenary considerations and disruptive political agenda.
"While we urge Nigerians to ignore purveyors of fake news and other inanities, it is obvious that Shaibu and his likes will stop at nothing in their desperation to distort facts and give oxygen to their politically knocked-out principal. But that can only worsen his infamy in the light of the President's determined commitment and strides to improving the social and economic conditions for all Nigerians.
"The PDP and all its agents of misinformation should know by now that no amount of sleazy propaganda, muckraking, lies, half-truths, misrepresentations, misinformation or disinformation will confer the presidency of Nigeria on their candidate.
"Nigerians have freely chosen our party, the APC, and President Bola Tinubu, to continue to steer the ship of state. And the President is making good his campaign promises to deliver purposeful leadership to remake Nigeria, open the economy to rewarding investments, promote inclusive growth, create jobs, secure lives and property and renew hope for a vibrant future."
---
---
© 2023 Naija News, a division of Polance Media Inc.