Lionel Messi Eying Sporting Director Job As He Blasts PSG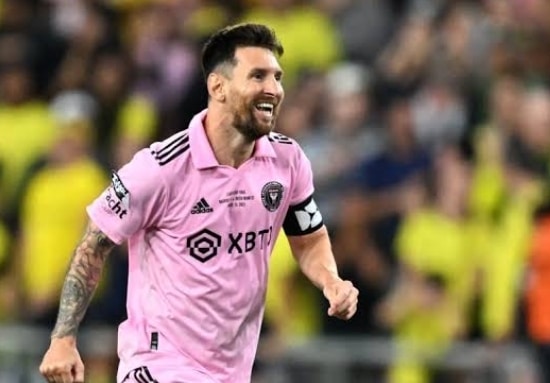 Argentine football icon Lionel Messi who was forced out of Inter Miami's 4-0 win over Toronto earlier today, September 21, said he is not thinking of retiring from football yet.
The 36-year-old Argentina international who has won every major title in world football including the 2022 FIFA World Cup, said he would like to be a sporting director or play any other role that would keep him linked to football.
Lionel Messi started his football career as a boy in the FC Barcelona football academy and went on to make his debut for the club as a teenager. In over a decade, Lionel Messi became the most successful player at the club in terms of personal awards, records, and contributions to the club.
Messi took his trade to Paris Saint Germain where he also had a successful spell even though he wasn't able to land them the illusive UEFA Champions League title.
He is now playing for Major League Soccer club, Inter Miami which he has already won the League Cup for.
In an interview with Miguel Granados on OLGA, which was released today, September 21, Lionel Messi was asked about his retirement, and he said, "I haven't thought about it and I don't want to think about it".
He added, "I just want to carry on enjoying myself. That was the main reason to leave Europe.
"I'm lucky to dedicate myself to something I love. Although I have responsibilities and goals, it's something I have enjoyed since I was a child. But after that, I don't know. I would like to stay linked to football, as a sporting director or something like that."
Lionel Messi Blasts PSG
Lionel Messi joined PSG when he couldn't extend his contract with FC Barcelona in 2021. He initially enjoyed a lot of funfair and acceptance but he failed to help the club make progress in the 2021-2022 season, hence, he joined the list of players the fans didn't want at the club.
Despite scoring 32 goals and helping the club win back-to-back French Ligue 1 titles, the fans booed the 7-time Ballon d'Or winner at every given opportunity, especially after helping Argentina to beat France in the 2022 Qatar World Cup final in December.
Hence, he agreed not to trigger the one-year extension option in his contract and joined Inter Miami this summer as a free agent.
During the interview with Granados, Lionel Messi claimed he was the only player in the Argentina 2022 World Cup-winning team that wasn't celebrated at club level.
He said, "With Kylian Mbappe things are good, like with everyone. After [the World Cup] it was understandable, we were in a situation where we [Argentina] were world champions and it was our fault that they [France and Mbappe] weren't champions once again.
"I was the only player that wasn't recognized by his club compared to the other 25 Argentinian players."
---
---
© 2023 Naija News, a division of Polance Media Inc.