Bandits Attack Parish House, Burn Catholic Seminarian In Kaduna (Photo)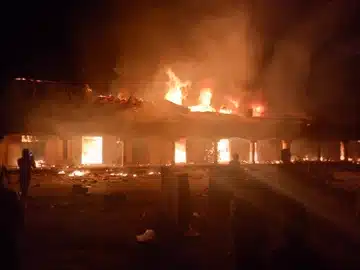 Bandits on Thursday caused confusion after they reportedly attacked a catholic parish house in Kafancha, Kaduna State, burning down the facility.
According to reports, the attack on the St. Raphael Parish in Fadan Kamantan, Kafancha Diocese of Kaduna State happened in the late hours of Thursday, 7th September.
It was gathered that the attackers burnt down the parish house.
While some of the priests escaped, Na'aman Danlami who was serving as a seminarian was not so lucky as he was caught by the fire.
The body of the deceased has been deposited at the mortuary.
The Chairman of the Christian Association of Nigeria (CAN) in Kaduna State, Rev. John Hayab, confirmed the incident in a statement released on Friday.
"Our hearts are filled with pains at the wake of today (Friday) 8th September, 2023, with the sad news of the attack in our land and against our people at Fadan Kamatan Parish of the Catholic Diocese of Kafanchan, Zangon Kataf LGA of Kaduna State, burning the priest's residence and burning to death, Seminarian Bro. Naam Ngofe Danladi," Hayab said.
"This causes us to wonder some more, where is the hope, how much more terrible could the situation get?"
The CAN leader added, "Security is everyone's business, it is disappointing that this kind of unholy activity could be recorded at the heart of Fadan Kamantan community and the criminals will operate unchallenged.
"It is a slap to the security forces within that jurisdiction. It is a slap to the religious leaders, traditional and community leaders.
"The position of CAN Kaduna State Chapter has always been that we as citizens must complement government in her primary responsibility of saving our lives and properties by proactively building a community security system that prevents any form of invading force into our community, sadly we are still here."
---
---
© 2023 Naija News, a division of Polance Media Inc.