I Will Not Negotiate With Terrorists, Bandits – Kastina Governor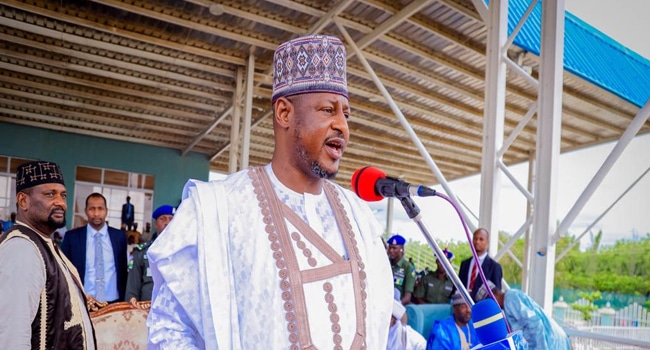 Governor Dikko Radda of Katsina State has assured residents of the state that his government will not negotiate with terrorists and bandits.
He added that his administration will not give amnesty to terrorists, but it is ready to accept them provided they embrace peace and surrender their weapons.
Radda gave the assurance on Thursday during a special prayer session organized by the state government to seek divine intervention against insecurity amidst the economic hardship facing the state.
The governor also called for the support and cooperation of the people to ensure that information is provided to security agencies to fish out the terrorists and criminals terrorising the state.
He said: "We don't have plans to give amnesty to terrorists, but we are ready to accept them if they are ready to embrace peace and lay down their arms.
"This event is not all about prayers, but also for the clerics to step down our message to their various communities to see to the end of the lingering security issues in our dear state and, by extension, the country in general.
"We need the cooperation of each and every member of the public to ensure that information is provided to us so that we can fish out the terrorists and criminals terrorising the residents.
"We must support our security agencies with information on the movements of the terrorists and their collaborators."
Governor Radda also asked the residents to pray for peace in the country and West Africa, especially in the wake of the coup d'etat in Niger Republic.
He said: "We pray for Almighty God's intervention in ECOWAS, Nigeria, and Niger in particular. We pray for Allah to bring peace between the two friendly nations of Niger and Nigeria so that the critical situation arising from the recent coup d'etat in the Niger Republic will be amicably resolved without firing a gun.
"The message from Tinubu is that we want each and every person to pray for the peaceful coexistence between Nigeria and other countries in the West African region and the globe.
"He said we should inform you, people, that his intentions were not to make life difficult for Niger Republic, but the military junta in Niger Republic has blocked all ways to listen to the delegation sent by the ECOWAS from Nigeria."