I Will Beat Saraki If He Contest PDP Chairmanship Against Me – Atiku's Ex Aide Warns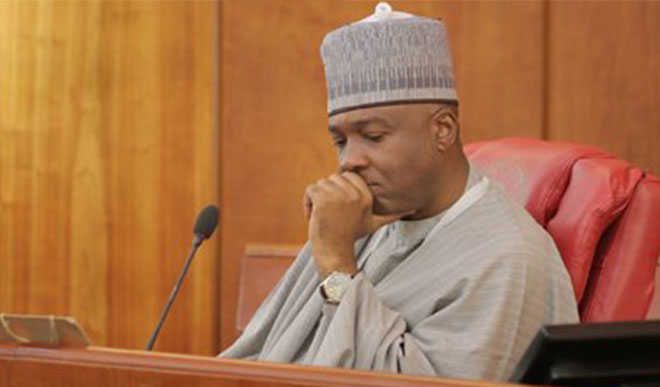 A former governorship aspirant of the Ogun State Peoples Democratic Party (PDP), Segun Sowunmi, has vowed to defeat former Senate President Bukola Saraki in the race for the party's National Chairman.
Sowunmi, an ex-media adviser to former Vice President Atiku Abubakar, stated this during a live appearance on Channels Television's Politics Today on Wednesday.
He stated that he would defeat Saraki, former Kwara State Governor, in a head-to-beat battle for the office of the National Chairman, saying, "I'll beat him."
Sowunmi said, "I'll beat him. I'll ask him what he did in 2014/2015 when they destabilized the party. I'll beat him. I'm sure of that."
He, however, stated that the emergence of Saraki would amount to another party chairman from the North Central geopolitical zone, which he believed was unfair to the South-West region.
"If North Central thinks that it is their inalienable right to be chairman all the time, then those of us in the South-West can tell them, 'No, we don't agree,'" he said.
"Some of us have put in a lot more than you guys have put in, and we want the party chairman to be in the South-West, and if young people want me to be, then we'll meet ourselves in the field."
"When you have the situation that we have on hand now, we must be very measured, we must be very careful, and we must not run into that consistent argument of thinking that our issue is removing the person in charge," he said.
"We had the same conversation with Ali Modu Sherriff. Then we ran into Makarfi, then we ran into Secondus, then we ran into Ayu. Now, we're with Damagun. We cannot be a political party that keeps saying all the time that nobody is good enough to lead us."
The past PDP chairpersons include Solomon Lar (1998-1999), Barnabas Gemade (1999-2001), Audu Ogbeh (2001-2005), Ahmadu Ali (2005-2008), Vincent Ogbulafor (2008 – 2010), Okwesileze Nwodo (2010), and Haliru Mohammed (2010).
The others are Kawu Baraje (2011-2014), Bamanga Tukur (2012-2014), Adamu Mu'azu (2014-2015), Ali Modu Sheriff (2015-2016), Ahmed Mohammed Makarfi (2015-2016), Uche Secondus (2017-2021), and lyorchia Ayu (2021-2023).
Umar Damagum currently serves as the acting PDP National Chairman, taking office upon Ayu's removal in March.
Story continues below advertisement
Of the 15 chairpersons, six have been from the North Central region: Lar, Gemade, Ogbeh, Ali, Baraje, and Ayu.
---
---
© 2023 Naija News, a division of Polance Media Inc.