IPOB Replies Gov Mbah On Plans To End Monday Sit-At-Home In Enugu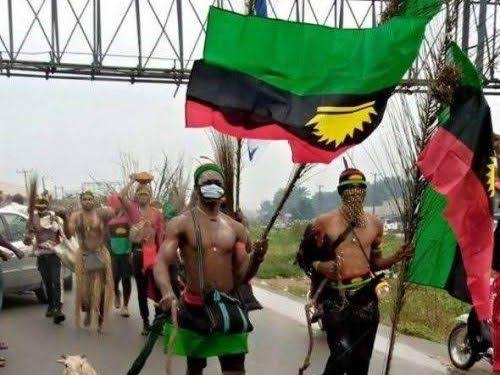 The Indigenous People of Biafra (IPOB) has agreed with the Governor Peter Mbah led government of Enugu State on ending the sit-at-home still observed by some self-proclaimed agitators in the state.
Recall that IPOB had declared a sit-at-home protest on Mondays across southeast states to draw the attention of the international communities to the continued detention of its embattled leader, Mazi Nnamdi Kanu.
The group subsequently withdrew the directive, admitting it was causing hardship for people in the region.
Naija News recalls that Governor Mbah declared earlier that schools, markets, retail outlets, hospitals, motor parks and malls must open on Mondays or would be forced to shut down.
Reacting, in a statement made available to news on Monday through its spokesman, Emma Powerful, IPOB said it has since backed out of the sit-at-home as ordered by Kanu and agreed by top members of the Biafra group.
IPOB, however, cautioned the Enugu State governor against using force to clamp down on residents in his bid to end the Monday sit-at-home in the state.
Naija News understands that some hoodlums said to be backed by Kanu's self-proclaimed disciple, Simon Ekpa, have been enforcing the sit-at-home protest, creating fear in residents who want to go out.
Governor Mbah, however, berated the continued exercise, saying the order had killed the spirit of entrepreneurship, commerce and creativity of residents of the state.
He noted that he had set up a task force to monitor compliance with its new directive from Monday, June 5.
IPOB's main body, however, clarified in the statement on Monday, that it had no hand in the continuous sit-at-home hijacked by some criminal elements.
The statement reads: "After our leadership initiated the Monday sit-at-home order to demand the release of our leader, Mazi Nnamdi Kanu, the IPOB leadership has long directed stoppage of the exercise to avoid criminals capitalising on that to harm our people.
"Though some Biafrans continued with Monday sit-at-home voluntarily, as our leader predicted, after the suspension order, some criminals and infiltrators hijacked it and started committing crimes and enforcing non-existent Monday sit-at-home.
"The Enugu State Governor, Dr Peter Mba should be made aware that IPOB has already suspended Monday sit-at-home. For him to publicly associate IPOB with Monday sit-at-home is obnoxious. If Mba wants to return normalcy on Mondays, he has the support of IPOB because those enforcing non-existent Monday sit-at-home are criminals.
"Anybody enforcing non-existent Monday sit-at-home order is not helping IPOB and our leader Mazi Kanu. Every member of IPOB and Biafrans should be coming out on Mondays for their business.
"The governor must know that the Nigeria Police know the criminals and the hideout of the criminals who enforce sit-at-home in some communities but are claiming to be IPOB but they are not.
"We are calling on Mba to never allow a single person to die because of this exercise because we don't know anything about it."
IPOB said the recent call by the Nigerian security agencies to stop Monday's sit-at-home is a call that will be used as a license to target and kill IPOB members and innocent Biafra citizens.
It urged Governor Mbah to be careful not to be used by enemies to target and attack IPOB members and ESN operatives.
"Mba should never make the same mistake Anambra State governor, Prof. Chukwuma Soludo made by using the Nigerian compromised security to stop Monday sit-at-home. Any attempt to use murderous Fulani-controlled security to stop the sit-at-home is an indirect way of killing our people.
"Such moves will always be counterproductive. Such measures failed in Ebonyi, Imo, and Anambra, and it will fail in Enugu if it is applied. We support him to stop the Monday sit-at-home, as we have stopped the sit-at-home. Allow the Monday sit-at-home to die off naturally by engaging our people," the statement added.