10th Senate Presidency: Shettima Begs Yari To Concede To Kalu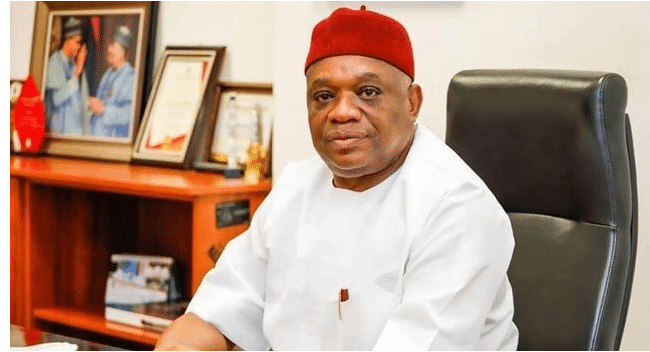 The leader of the Arewa Youth Consultative Forum (AYCF), Alhaji Yerima Shettima, said on Thursday that Senator Orji Uzor Kalu has all the qualities needed and would make a good senate president for Nigeria because of his capacity.
This is as Shettima urged a frontline aspirant for the 10th Senate Presidency, Abdulaziz Yari, to concede the position to the Chief Whip of the Senate.
Shettima acknowledged that Yari, a former Governor of Zamfara State, has the upper hand in the race. However, he admonished Yari to let Kalu take the senate's leadership for religious balance and the promotion of peace and unity.
Naija News understands that the AYCF leader gave the admonition while addressing journalists in Kaduna on Thursday morning.
Shettima noted that allowing a South Easterner and a Christian to be the Senate President will help strengthen the country's unity. He also noted that the partnership between Senator Yari and Senator Kalu is well accepted in the North and has received silent endorsements across the country.
"We are happy with the strong partnership between the North and South in Senator Abdulaziz Yari and Senator Orji Uzor Kalu. We are aware they are yet to formally announce to Nigerians who becomes the Senate President and who becomes the deputy. We are happy that the two are ready to accept the decisions between the two groups.
"We also know that Yari has the upper hand in the partnership since he has about 42 Senators while Kalu has about 27 senators making the partnership have 69 Senators in their fold. But we are appealing to Yari to consider the future of the country in this critical time and accept the Deputy Senate President position. There is actually no difference between the Senate President and Deputy Senate President since the two are presiding officers.
"We only think that for religious balancing and for peace and unity of the country, the South East deserves to produce the Senate President. Senator Uzor Kalu is a detribalized Nigerian who has built relationships across all regions. He is very close with President Tinubu and his family. He is close to the North and the South-South," he said.
Shettima reiterated that Kalu is competent, experienced, very peaceful and patient and it was only right that Yari consider the appeal and allow Kalu to be the Senate President in their joint ticket.
"The North will hold him in high esteem and would forever acknowledge his unwavering commitment to the unity of the nation," he said added.