2022-2023 Premier League Last Fixtures And What To Expect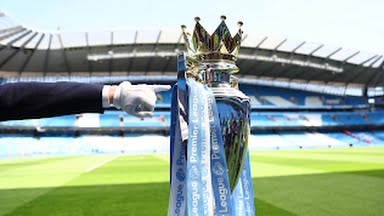 The 2022-2023 Premier League season will officially come to an end on Sunday evening, May 28, 2023, with some blockbuster fixtures.
As usual, all the last league games are scheduled to kick off at the same time, 4:30 PM WAT, which means that football enthusiasts have to find a way to enjoy 10 Premier League games simultaneously.
Below are the last 2022-2023 Premier League fixtures
Aston Villa Vs Brighton
Everton Vs Bournemouth
Leeds United Vs Tottenham Hotspur
Brentford Vs Manchester City
Manchester United Vs Fulham
Chelsea Vs Newcastle United
Leicester City Vs West Ham United
Arsenal Vs Wolves
Southampton Vs Liverpool
Crystal Palace Vs Nottingham Forest
What to expect
Naija News has reported that Manchester City have been confirmed winners of the 2022-2023 Premier League title for the third time in a row after their closest rivals this season, Arsenal, lost 1-0 to Nottingham Forest on May 20.
Also, the top four race ended on May 22 when Manchester City thrashed Chelsea 4-0 at Old Trafford. Hence, Manchester City, Arsenal, Manchester United, and Newcastle United will play in the UEFA Champions League next season.
Also, Liverpool and Brighton have sealed their place in the Europa League. They could be joined by 14th-placed West Ham United if they beat Fiorentina in the Europa Conference League final on June 7.
On the other hand, Aston Villa, Tottenham Hotspur, and Brentford are still battling to qualify for the Europa Conference League. The battle will last until the last minute of the campaign on Sunday. Hence, games involving these three teams are expected to be very fierce as none of the teams would want to drop points or lose out of the race on Sunday.
Another fierce battle will take place among the bottom-placed teams. Three teams are expected to drop down to the Championship this season. One (Southampton) has already sealed their demotion.
On Sunday, two teams from Everton, Leicester City, and Leeds United are expected to drop off from the top of the Premier League. Hence, games involving these three teams are expected to be brutal. At the end of the day, only one of the aforementioned clubs will remain in the Premier League.