Leaked Audio: Six Key Points From Peter Obi's Statement, Nigerians Reaction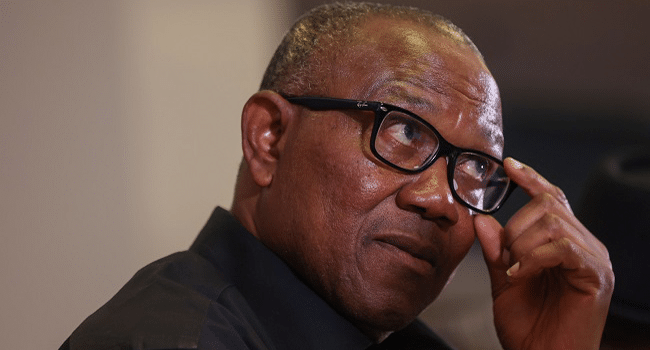 Today, the Labour Party (LP) presidential candidate in the just concluded election, Peter Obi, broke silence on a controversial alleged telephone conversation between him and Bishop David Oyedepo of the Living Faith Church (a.k.a winners chapel).
There were mixed reactions over the weekend after a supposed record of a conversation between Obi and the revered cleric was leaked on social media.
It was alleged that Obi, while speaking with Bishop Oyedepo, described the 2023 presidential election as a religious war and urged the popular Pastor to help him mobilize Christian votes.
Also, Minister of Information and Culture, Lai Mohammed, accused Obi of inciting Nigerians to violence over the outcome of the presidential election.
In a statement he personally signed and published on his social media page on Tuesday, Obi made some key points in an attempt to clarify the allegations about him in the viral leaked audio.
Six Key Points In Obi's Statement On Leaked Audio With Bishop Oyedepo:
Obi said he has never encouraged anyone to undermine the Nigerian State.
Obi assured that he is an advocate of peace and issue-based politics.
The Labour Party presidential candidate reassured of his commitment to following due process.
Having reacted to the allegations against him, Obi said he is seeking redress in court.
Obi admonished those responsible for the leaked audio to stop presenting Nigeria in a bad light.
Obi said a decent and secure life is possible in Nigeria
Mixed Reactions: How Nigerians Reacted To Peter Obi's Explainer
@TheresaTekenah – "You said people shouldn't vote for you based on religion and ethnicity but your actions and private conversations are the exact opposite. You are two-faced and an unrepentant liar.
@MrAfobaje – "If that audio was fake, best believe @PeterObi would have latced onto it since. The fact that he is making concrete efforts to avoid the topic is all the evidence you need.
@Keisha_Lakish – "Absolutely Daddy we are living witnesses the truth is they are only jealous of you never mind them we got you. Above all the God of the Universe you Daddy has got you take heart your Excellency it all shall come to pass it's the work of haters .Thanks Daddy.
@secondkings4 – "Well said, sir. They have no other card to play other than the campaign of Calumny which is bound to fail woefully.
@archiecomicz – "These accusations are making the SouthWest @OfficialAPCNg (ACN for short) sound like toothless dogs who bark but cannot bite.
If you believe what you are saying about @PeterObi, , arrest the man or shūt the fvck up. Why are you afraid when you control the Security apparatus of.
@Spotlight_Abby – "A leader that when he speaks, it's like the sunshine after stormy rains.
This is the man that Nigerians left the comfort of their homes abroad, bought flight tickets & returned home to vote for, as did millions in Nigeria. No agbado could make that sacrifice. APC must go!
@onyeka_real – "I wish Dr Datti can take this tweet, rework it to add the necessary gbas gbos, then retweet. PO is too calm for these irresponsible thieves. Give them wetin dem deserve. Call them irresponsible, reckless and comedians. This tweet is too calm for all the evil they are doing. ()
@oddy4real – "Peter speaks. Still won't speak to the authenticity or otherwise of that audio. Sharp guy.
@The_socialistt – "Still didn't deny the audio tape. Just went about stroking his own penis attacking Lai Mohammed unnecessarily. Shameless.
@icemekas – "Only God knows what Peter Obi and Dr Datti Baba-Ahmed are going through they are not talking about. Even in the face of underserved provocation, he still put himself together and tweet sensibly."