Major Shake Up As Nigerian Navy Redeploys 128 Senior Officers (Full List)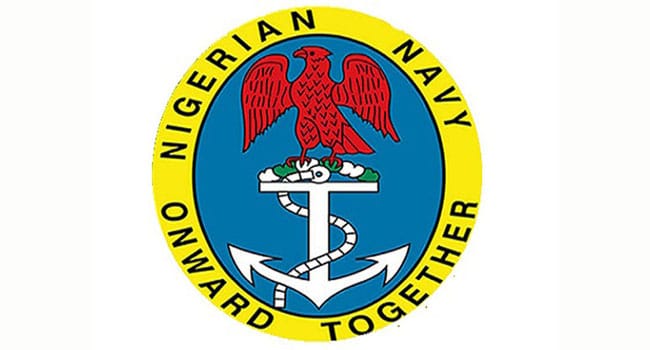 The Nigerian Navy has approved the redeployment of 128 senior officers to various positions, formations and units across and outside the country.
This development was confirmed in a statement on Monday by the Navy's spokesperson, Commodore AO Ayo-Vaughan.
According to him, 52 Rear Admirals and 76 Commodores were affected by the redeployment.
Ayo-Vaughn explained that the new appointments became necessary as a result of the promotion of senior officers in December 2022.
The statement reads: "The new appointments indicate that Rear Admiral Garba Abubakar has been reappointed as the Nigerian Navy Delegate to the Islamic Military Counter Terrorism Coalition, Kingdom of Saudi Arabia while Rear Admiral Akano Adesope, formerly a Moderator at the National Institute of Policy and Strategic Studies (NIPSS), Kuru has been appointed as the Admiral Superintendent Naval Ordinance Depot.
"Rear Admiral Kennedy Egbuchulam, formerly Director of Administration, Naval Headquarters is now reappointed to Naval Headquarters as the pioneer Chief of Communications and Information Technology, Rear Admiral Nnamdi Muogilim, former Chief of Defence Space Administration, Defence Headquarters has been appointed as the Executive Director Operations, Navy Holdings Limited while Rear Admiral Adewale Olanrewaju, formerly Commander Nigerian Navy Ship WEY is to take over as the Director Standards, Naval Headquarters.
"The former Deputy Director of Communication Intelligence at Defence Intelligence Agency, Rear Admiral Fatah Sanusi is now the new Executive Director, Administration, Human Resource & Personnel Management at the Navy Holdings Limited. Rear Admiral Nuhu Bala, the former Director of Transformation, Defence Headquarters has been reappointed as the Deputy Chief of Defence Space Administration, Defence Headquarters while Rear Admiral Danjuma Moses, former Director of Training, Defence Headquarters takes over as the Deputy Commandant, Armed Forces Command and Staff College, Jaji.
"The routine reshuffling of the senior naval officers also affected Rear Admiral Vincent Okeke, former Director of Logistics, Defence Headquarters who has been reappointed to Defence Headquarters as Director of Plans and Rear Admiral Yakubu Wambai, the immediate past Flag Officer Commanding, Western Naval Command moves to Defence Headquarters as the Director of Transformation.
"The former Director Veterans Affairs, Naval Headquarters, Rear Admiral Ismaila Zelani has been reappointed to Naval Headquarters as Director of Administration, Rear Admiral Emmanuel Beckley, the erstwhile Admiral Superintendent Naval Ordnance Depot moves to Headquarters Defence Intelligence Agency as the Director of Logistics while Rear Admiral Domnan Dangwel, formerly Deputy Director Monitoring and Evaluation, Defence Headquarters resumes Naval Headquarters as the Director Special Projects.
"Rear Admiral Tanko Pani, who served as Director of Plans, Defence Headquarters has been reappointed to Defence Headquarters as the Director of Training. Rear Admiral Hamisu Sadiq, formerly the Deputy Director Earth Observation, Defence Space Administration, Defence Headquarters is now the Director of Safety, Naval Headquarters while Rear Admiral Olusanya Bankole has been reappointed as the Director of Communications, Naval Headquarters."