'You Lied, I'm Not Owing Salaries' – Ikpeazu Replies Otti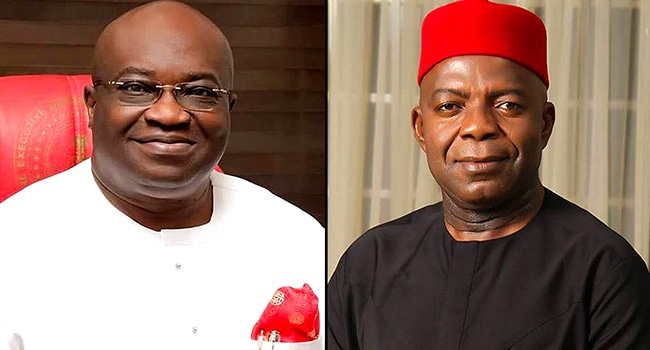 The Governor of Abia State, Okezie Ikpeazu, has denied claims that he is owing civil servants' salaries for several months.
Recall that the Governor-elect of the state, Alex Otti, had said he contested the governorship election because the Peoples Democratic Party (PDP) government is owing workers salaries and pensions, among others.
However, reacting to Otti's claims on Channels Television's Politics Today on Thursday, Ikpeazu said his government is not owing "core civil servants" any salary.
He stated that the state government has 31,000 workers in its workforce and 29,000 of them are up to date in salary payments.
The governor asserted that civil servants that have issues with salaries are those working in parastatals because they are revenue-generating agencies.
He said: "I have 31,000 workers in Abia workforce and 29,000 of them are up to date as we speak in salary payment… Parastatals receive subvention. I don't pay their salaries because they are revenue-generating agencies of government."
Ikpeazu said the issue of non-payment of pension and salaries has been there long before he assumed office and he has done his best to settle them with the expectation that his successor will continue from where he stopped.
He added: "But I don't run away from responsibility, the issue of pension has been there perennially since the past 24 years. I did as much as I could, this government since inception passed through two to three recessions.
"When I came, within three months of my administration, I paid eleven months arrears of salary. Those eleven months were there while I was governor. So, if you take up position as governor you have accepted to take over both liability and asset and I don't like to complain.
"I didn't have to talk about what my predecessors did not do because what gave me my job in the first place was that there were things they didn't do. So, for somebody to come and make a sweeping statement that no salary is being paid is a lie, I am not owing any core civil servant salary."