'Yorubas Are With Us' – What Iwuanyanwu Really Said At Anambra Event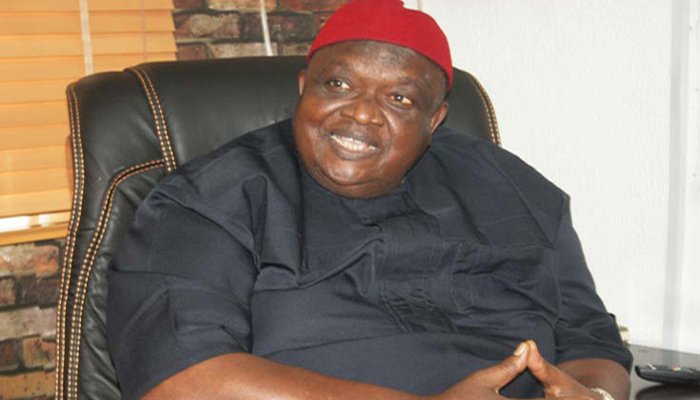 Controversies have continued to trail the speech of a chieftain of Ohanaeze Ndigbo Worldwide, Emmanuel Iwuanyawu, which he delivered on Saturday, 25 March, in Awka during an event to mark Charles Soludo's one year in office as the Governor of Anambra State.
The businessman and politician was alleged to have described the Yoruba race as 'Rascals' while speaking at the event attended by top Igbo leaders and political stakeholders.
The likes of pan-Yoruba socio-political organisation, Afenifere, former Aviation Minister, Femi Fani-Kayode and some other notable people in the South-West region of Nigeria have since slammed Iwuanyawu over the alleged attribution.
In a statement by its National Organising Secretary, Apagun Omololu, Afenifere, faulted Iwaunyawu, and called on the Ohaneze Ndigbo leadership to caution him.
The organisation said it would reach out to the leadership of Ohanaeze Ndigbo to seek clarification on Iwuanyanwu's comment and whether his view is a reflection of the thinking of the Igbo group of the Yorubas.
In a long epistle on his Twitter handle during the weekend, Fani-Kayode said the Ohanaeze chieftain was speaking for himself when he allegedly called the Yoruba people 'rascals'.
He said: "As for Iwanyanwu, I will not respond to him or to all those that were at that event and that collectively rubbished our people because they are my in-laws and because my four sons are half Igbo.
"There is nothing Iwanyawau can say that will make me turn against the Igbo because I have blood and family ties with them, and I will continue to love them despite this outrageous provocation.
"Apart from that there are millions of Igbos who do not share Iwanyanwu's views and who have shown nothing but the greatest respect for the Yoruba race and our Northern brothers and allies.
"Amongst them are dear friends and brothers like John Nwodo, Orji Uzor Kalu, Chimaroke Nnamani, Ifeanyi Ugwainyi, David Umahi, Hope Uzodinma, Innocent Chukwuma, Emeka Offor, and so many others."
However, the apex Igbo socio-cultural organization, Ohanaeze Ndigbo Worldwide, on Sunday denied that its chieftain, Emmanuel Iwuanyanwu never referred to Yorubas as political rascals.
In a statement by its National Publicity Secretary, Alex Ogbonnia, Ohanaeze said Iwuanyanwu did not make such a remark.
Ohaneze insisted the report was a typical falsehood, fabricated by social media entrepreneurs to create inter-ethnic mistrust between the age-long partners in the religious, cultural, social, and economic development of Nigeria.
It said Iwuanyanwu only drew the attention of the audience and the general public to the fact that the Ndigbo and Yoruba people were neither fighting nor quarrelling.
Naija News reports that a transcript of what Iwuanyanwu said at the event, however, showed he was referring to political thugs who oppressed the Igbo speaking people during the just concluded election elections in Lagos State.
The Ohanaeze chieftain stated that no one would be allowed to take the life of any innocent person again.
According to Iwuanyanwu, Ndigbo had invested so much in Nigeria and they would reject whoever tell them to go.
He however insisted that there is no war between the Igbo and the Yoruba, adding that the Yorubas are with them.
"The elders have directed the Secretary-General of Ohanaeze Ndigbo, (Okey) Emuchay, to set up the commission of enquiry to find out things destroyed. People are going to pay," he said.