Protesters Storm N/Assembly, Demand Annulment Of Tinubu's Victory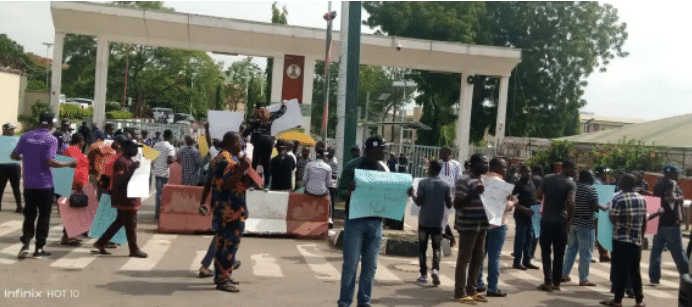 Members of a Civil Society Organisation, Free Nigeria Group, stormed the National Assembly to express their displeasure over the outcome of the February 25 presidential election.
The protesters carried placards with various inscriptions, including, "Save our Democracy", "Politicians are Killing our Democracy", and "INEC killing the Nigerian Democracy."
Naija News reports that the protest, which took off from the Unity Fountain in Maitama, paralyzed vehicular movement in the heart of the nation's capital for hours.
The demonstrators, however, met stiff resistance, as they were denied entry into the National Assembly premises by security men led by the Divisional Police Officer (DPO) at the parliament.
The DPO, who came to address the protesters, said there was no written permission from the group or the relevant authorities, and as such, they would not be allowed into the National Assembly premises.
Leader and co-convener of the group, Dr. Moses Ogidi Paul, while addressing newsmen, described INEC as a failed institution and called for the annulment of the 2023 presidential poll.
Paul called for the arrest and prosecution of the Chairman of the Independent National Electoral Commission (INEC), Professor Mahmood Yakubu, for supervising the "fraudulent presidential election".
The development comes less than 24 hours after the group had staged a similar protest at the headquarters of INEC, where they demanded the immediate removal of Yakubu.