'Wike Is Tribalistic And A Thief' – Amaechi Tells Rivers People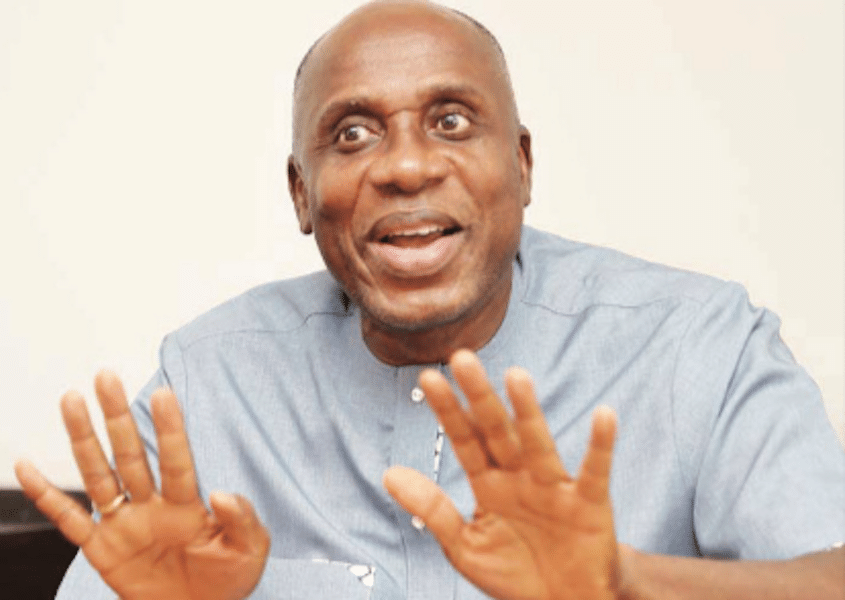 Former Minister of Transportation, Rotimi Amaechi has described Governor Nyesom Wike of Rivers State as "a tribalistic leader and a thief".
Amaechi made the allegation on Wednesday during his campaign for the governorship candidate of the All Progressives Congress (APC) in Rivers, Tonye Cole, at the popular Mile 3 Market in Port Harcourt.
The former Rivers governor said Wike doesn't support the Ikwerre people, but only himself and his pocket, adding that the governor has abandoned schools and health centers in the state.
Amaechi said Rivers people are the problem of the state because they always hail him when he comes around to share money and dance during campaigns.
The APC chieftain asked the people of the state to reject Wike and his stooge in Saturday's governorship election and put an end to misrule by his government.
He said, "Wike is tribalistic. Wike doesn't even support the Ikwerre people, Wike supports only himself and his pocket, and his garrulous mouth. We'll win. You need to come out and vote and make us win.
"People are tired of Wike and his stealing…If he has shame, he wouldn't have gone on national television and say when Atiku was demonstrating at the INEC office, he was drinking 40 years old whiskey. Is he well?
"Wike isn't our problem, you're the problem. If he comes here now [with money], you start dancing. If Wike gives you ten million naira and when you give him power, he steals one billion naira. Wike has abandoned everything, schools, health centres. In Rivers State, Wike is the contractor and all the money is in his pocket."