See Presidential Election Outcome As God's Act – Sultan Of Sokoto Tells Candidates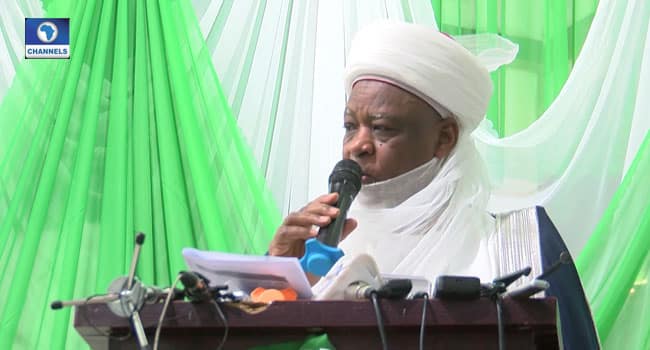 The Sultan of Sokoto and President General Nigeria Supreme Council for Islamic Affairs (NSCIA), Alhaji Sa'ad Abubakar III, has appealed to Nigerians and candidates in the just concluded presidential election to see the outcome of the polls as God's act.
Recall that All Progressives Congress (APC) presidential candidate, Bola Tinubu, was declared the polls' winner after amassing higher voter turnouts ahead of his closest rivals, Atiku Abubakar of the Peoples Democratic Party (PDP) and Labour Party's Peter Obi.
Speaking at Aminu Kano Triangle in Dutse, the Jigawa state capital, during the coronation and presentation of the staff of office ceremony of the new Emir of Dutse, Alhaji Muhammad Sunusi, the Sultan of Sokoto noted that leadership is from Allah Almighty.
"He gave it to whomever He wishes at any time He wishes and nobody to quarry Him or change what He did," the renowned traditional monarch said.
He said: "There was an election recently, and God Almighty did what He wishes. We should consider it as an act of God. He made the winners, and nobody can stop or change what God Almighty did".
The Chairman of the Supreme Council of Islamic Affairs appealed to leaders to be just and fair to their followers, considering the difficulty, and the current hardship the masses are facing.
"But we all need to pray to God Almighty for His favour, interventions, and mercies," he said.
The Sultan of Sokoto also called on the politicians to encourage peace and stability. "You should stop any activity that would disrupt peace and any act that would cause any damages or disharmony in our country Nigeria," the cleric said.
For his part, the new emir, Sunusipromised to continue with the good done by his let father of uniting the people and encouraging them to seek education on his people.
The emir also directed all the district heads, village, and ward heads to work hard and ensure peace and security in their domains.
He thanked the JIgawa state governor, Alhaji Badaru Abubakar, Sultan of Sokoto, Shehu of Borno, and all the dignitaries present for his appointment and for gracing the occasion.