You Have No Integrity, Credibility – PDP Campaign Fires Wike Over Tinubu's Visit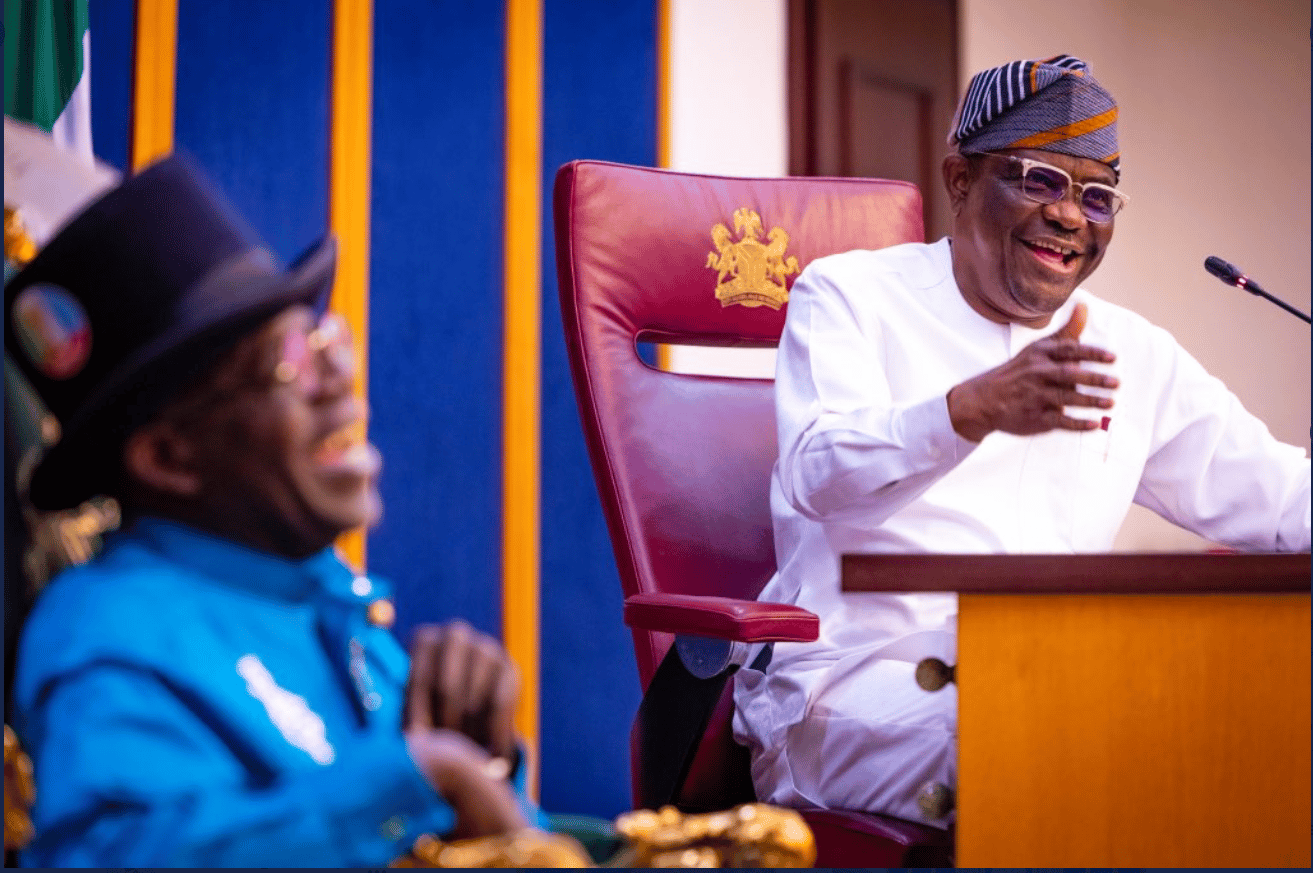 The Peoples Democratic Party Presidential Campaign Council (PDP PCC) in Rivers State has blasted Governor Nyesom Wike over the visit of the flagbearer of the All Progressives Congress (APC), Bola Tinubu, to the Government House, Port Harcourt on Wednesday.
In a statement issued by the spokesman of the PDP PCC in Rivers, Leloonu Nwibubasa, said the visit of the APC flagbearer has ended all speculations that Wike has officially joined the APC.
Nwibubasa advised the governor to stop the continuous denial of his current political standing and come out and endorse Tinubu.
He added that Wike has no single strand of integrity and credibility left in him for turning around and embracing the ruling party he described as cancer in time past.
He said: "Today marked the end of all speculations by Nigerians and hypocritical denials by Governor Nyesom Wike of his current political standing as Wike plays host to the APC presidential candidate Bola Ahmed Tinubu in the council chamber of the Rivers State Government House with all members of the Rivers State executive council present.
"This has not only justified the consistent position of the Rivers state Presidential Campaign Council that Governor Wike who has wholly engaged himself in anti-party activities has criminalized the mandate of the PDP who offered him the platform upon which he was elected governor.
"The utterances of Governor Wike in time past against President Buhari's policies and poor performance in governance and the manner in which the Governor vilified and spoke despicably about Bola Ahmed Tinubu for telling Nigerians that he wants to continue Buhari's legacy of good works, is diagnostic that he has no single strand of integrity and credibility left in him for turning around not just to embrace but to consummate his marriage to a party he described as Cancer.
"The show of shame is seen to have been ignorantly celebrated by his minions who are all soon to become internally displaced politicians if they don't return to good reasoning.
"The people of Rivers state would have benefited more if the Five hundred million Naira that was disbursed for the failed mobilization of people to the APC presidential rally was voted into SMEs for wealth and job creation for the surging population of unemployed youths or for the payments of retirees benefits and gratuity.
"It's now obvious why Governor Wike ran to the courts to seek judicial asylum knowing he was about playing his highly predictable last game of desecrating the mandate of The People's Democratic Party.
"Governor Wike as a lawyer should know that you can not suspend the hands of justice in perpetuity while you continue to break all known laws that govern a system. The day of reckoning is here. The leadership of the party must act to save what is left of the PDP in Rivers State."