Tinubu Leads Atiku, Obi, Kwankwaso In New Poll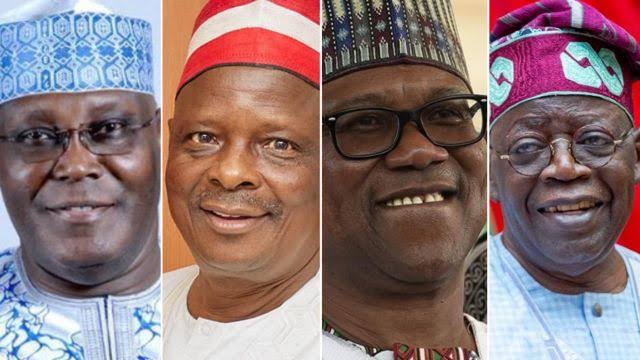 The flagbearer of the All Progressives Congress (APC), Bola Tinubu, has been tipped to win the forthcoming presidential election.
A new presidential pre-election opinion poll conducted by the Nigerian Human Rights Community (NHRC) shows that Tinubu would win outrightly in seventeen states.
Speaking on Wednesday at a media briefing in Lagos, NHRC Secretary General, Taiwo Adeleye, said the poll was conducted in January and 19,365 respondents were interviewed.
Adeleye said 7,940 (41%) of the people interviewed in the 774 Local Government Areas (LGAs) of the 36 states and the Federal Capital Territory (FCT) preferred Tinubu as the next President.
He disclosed that 5,035 (26%) preferred Atiku Abubakar of the Peoples Democratic Party (PDP), 4,067 (21%) preferred Peter Obi of the Labour Party (LP), and 1,743 (9%) rooted for Rabiu Kwankwaso of the New Nigeria Peoples Party (NNPP).
Adeleye said the poll predicted that Tinubu would win in Lagos, Ogun, Oyo, Osun, Ondo, Ekiti, Cross River, Kwara, Kogi, Nasarawa, Niger, Kaduna, Zamfara, Jigawa, Borno, Yobe, and Gombe state.
The poll also indicated that Tinubu will secure at least 25 percent of votes in Imo, Ebonyi, Edo, Benue, Plateau, FCT, Kano, Katsina, Kebbi, Sokoto, Adamawa, Bauchi, and Taraba.
While former Vice President Atiku is expected to win in seven states such as Adamawa, Taraba, Sokoto, Edo, Akwa Ibom, Bayelsa, and Delta.
The poll predicted a victory for Kwankwaso only in his home state of Kano, while Obi is expected to win in Anambra, Enugu, Imo, Ebonyi, Abia, Benue, and Rivers.
He said: "The NHRC poll revealed that the presidential candidate of the All Progressives Congress (APC), Bola Ahmed Tinubu, holds a magnificent lead and is on course to win the 2023 general election.
"The poll also confirms a two-horse race for the second position between Atiku Abubakar of the Peoples Democratic Party and Peter Obi of the Labour Party, while Rabiu Kwankwaso of the NNPP came a distant fourth, as all other contestants together scored an insignificant total."
Adeleye also listed Tinubu's advantage to include his Islamic background, as well as support from APC governors.
He added: "He holds a slight advantage in Kaduna where Peter Obi and Atiku Abubakar are jostling for the second position.
"Muslim men and women of Yoruba extract favour his candidacy while he also has the backing of the majority of Muslims in the north.
"It is expected that he comfortably leads in Cross River state as a result of the broad-based voter support the Cross River state governor has within this state.
"He has considerable support in states where the incumbent governor is a member of the APC."