IPOB Speaks On 2023 General Elections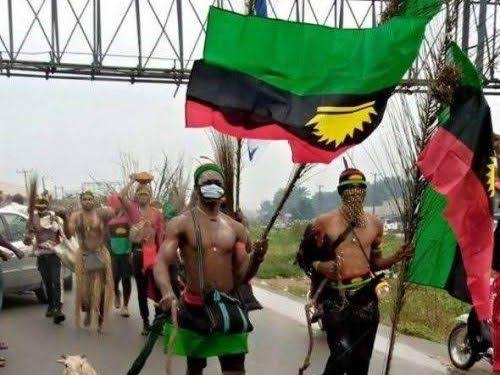 The proscribed Indigenous People of Biafra (IPOB) has said that it has no interest in the forthcoming 2023 general elections and hence, it is not connected to any attack on the facilities of the Independent National Electoral Commission (INEC).
Naija News reports that the Biafra agitators had been accused of perpetrating attacks on some facilities of the electoral body in parts of the South-East, especially within Ihiala Local Government Area of Anambra State and Orsuihiteukwa in Orsu Local Government Area of Imo State.
Reacting, however, the Media and Publicity Secretary of the secessionists, Emma Powerful, said in a statement on Monday, that the group's only interest is getting a referendum date to decide its political, social and economic affiliation either in a united Nigeria or independent Biafra nation.
IPOB also denied directing any sit-at-home in the South-East during the election period, urging residents to disregard the rumoured order making the rounds by the Simon Ekpa faction.
According to Powerful, those attacking INEC facilities were primarily funded and sponsored by unscrupulous politicians to demonise IPOB and the Eastern Security Network.
The statement read: "IPOB condemns the recent attacks on INEC offices and staff in Ihiala LGA, Anambra State. The criminal gangs operating within Ihiala LGA and Orsuihiteukwa in Orsu LGA, Imo State are primarily funded and sponsored by unscrupulous politicians to demonise IPOB and ESN operatives.
"We maintain that we have no interest in the selection process called Nigeria election. Hence, we refrained from making any statement concerning the jamboree. Our only demand is a referendum date for us to decide our political, social and economic future either in a united Nigeria or independent Biafra nation.
"IPOB and ESN operatives did not ask any group to attack INEC facilities for whatever reason, nor did we issue any sit-at-home order within the election period.
"Anybody linking IPOB to the malicious sit-at-home order must be very ignorant. IPOB has its own channels to disseminate information through its media and publicity secretary, Emma Powerful, or an official IPOB memo signed by the Head of the directorate of state of the Indigenous People of Biafra, Mazi Chika Edoziem. Any IPOB public information not from the abovementioned channels should be disregarded."
Powerful urged residents of the South-East region to disregard false information linking IPOB to criminal activities of infiltrators and collaborators.
He stressed that IPOB volunteers and ESN operatives would make Biafraland very uncomfortable for criminal gangs paid to intimidate the residents and blackmail its peaceful movement.
"Nigeria security agencies who have been aiding, abetting and supporting these criminals recruited and funded by politicians must steer clear because we will unleash our venom on those who want to blackmail IPOB.
"The task ahead is enormous, and our enemies are relentlessly exploiting every means to destroy IPOB through this election, but we won't allow them to continue in their obnoxious plan to destroy IPOB and ESN operatives and derail our freedom march.
"The attacks on INEC facilities within this period are not supported by IPOB, because that will not add any positive value to our struggle. We are only seeking Biafra freedom through peaceful means and not through violence," the statement added.